Brutal Bartoli Destroys Flipkens To Reach Wimbledon Final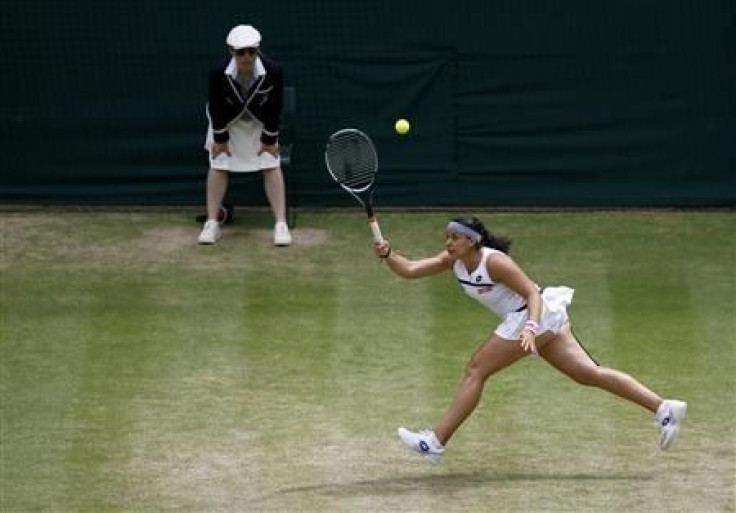 French jack-in-the-box Marion Bartoli barely had time to go through her full repertoire of mannerisms as she thrashed Kirsten Flipkens 6-1 6-2 on Thursday to reach her second Wimbledon final.
The 15th seed clinched victory in 63 one-sided minutes, overwhelming Flipkens who was making her first appearance in a grand slam semi-final.
Bartoli, one of the most unorthodox players in the women's game, crunched winners with her double-fisted forehands and backhands and fired down a second serve ace at nearly 100mph.
"I just cannot believe it, I played so well," Bartoli, beaten by Venus Williamsin the 2007 final, said.
"I saw the ball like a football. I hit it cleanly from the start. To play so well in the semi-final at Wimbledon is an amazing feeling."
Flipkens knocked out former champion Petra Kvitova in the quarter-finals but looked pensive throughout against Bartoli and needed treatment on her heavily-strapped right knee in the middle of the second set.
"I think she was a bit injured and she deserves a lot of credit, but it must be hard to be injured in the semi-final at Wimbledon," Bartoli said.
The Center Court tried desperately to lift Flipkens, although even their enthusiasm for the underdog waned as the match reached an inevitable conclusion.
Value for money it was not, although the match did at least last longer than the 19 minutes it American Alice Marble to beat German Hilde Sperling 6-0 6-0 in 1939.
Bartoli was her usual bundle of energy from the first point.
Twice she wrapped up games with aces and sprinted to her chair and when waiting to return she played practice swings with her back turned, as if standing in front of an imaginary mirror.
In between points, she was perpetual motion, jogging on the spot and bouncing around like a prize fighter.
"C'mon Flipper" was the cry from the crowd as the first set sped away from the 27-year-old Belgian in less than half an hour.
Bartoli's play was brutal and she allowed her opponent only two points in the first three games of the second set, at which point Flipkens called for the trainer.
The Belgian, whose career has been blighted by knee and wrist injuries and who last year hurtled down the rankings after suffering blood clots in her legs, scraped another couple of games, and even allowed herself a rueful smile when a Hawkeye challenge went against her.
Former men's champion John McEnroe, commentating on the match for television, described the occasion as a "nightmare" for Flipkens but thankfully it was over quickly as Bartoli powered away a smash on her second match point.
She will play fourth seed Agnieszka Radwanska or Sabine Lisicki, seeded 23rd, in the final on Saturday.
© Copyright IBTimes 2023. All rights reserved.