BTS' Jin Shares Thoughts On Performing Solo As Boy Band Takes A Break
BTS' oldest member, Jin, is looking forward to embarking on solo activities, particularly joining a local variety show.
The 29-year-old vocalist shared his thoughts about pursuing solo projects in an interview with Weverse magazine that came out Tuesday, only a few hours before BTS announced that the boy band will be going on an indefinite break.
"I thought about going on a variety show to make myself happy, not for the group or because of my popularity or for work, because filming those shows might put me in a happy mood," Jin said. "There are some things about variety shows that are tough, of course, but it's also a chance to laugh your head off on set all day."
The "Black Swan" singer also talked about gaining confidence as a solo performer almost a decade after the boy band's 2013 debut.
"It used to be that any time I had to do something, I thought it was such a big deal. Like, how can I handle something this big right now," Jin explained. "I would always feel discouraged, but my personality has changed a lot now, I think. I think the biggest change in my mind is that now, even if there's a major project in the works, I think I can do it now."
He continued, "Now, instead of, 'How can I handle this?' it's 'I can handle this!' when I'm making songs for other people to listen to."
Jin also expressed his gratitude for J-Hope, who encouraged him the most when he sustained a finger injury before their four-night Las Vegas concerts in April. Jin had surgery on his index finger afterward, so he had to perform with a cast during their shows. Jin also wore a cast during the group's "Butter" number at the Grammys that same month.
"What I'm really thankful to Hobi (J-Hope) for and makes me feel bad is — the fact is, I wasn't really in the performance, so I didn't really deserve that kind of respect, but I'm so grateful that he complimented me and said nice things about me," Jin said.
BTS members announced they are taking a break from group activities during the "Festa" dinner Tuesday. Big Hit Music shared Wednesday that the boys will begin a new chapter in their careers and will start promoting solo activities. J-Hope will be the first to embark on solo projects, according to the label.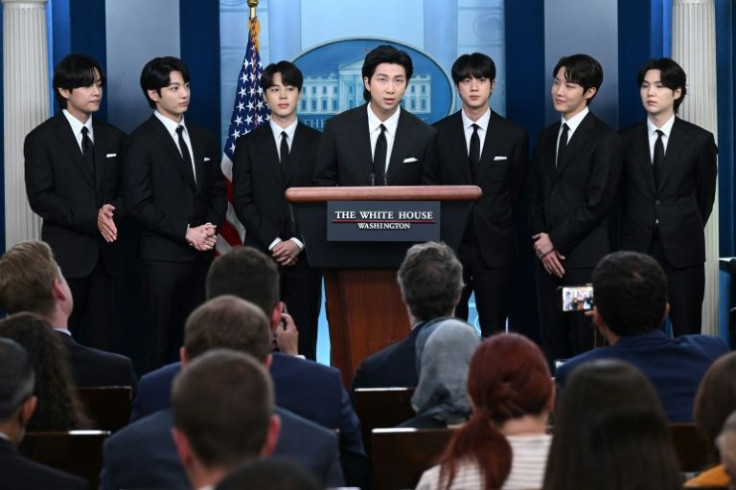 © Copyright IBTimes 2023. All rights reserved.