BTS Meet Up With 'Butter' Rapper Megan Thee Stallion In NYC [Photos]
Just a few days after giving a speech and performing "Permission To Dance" at the 76th United Nations General Assembly, global sensation BTS met with "Butter" collaborator Megan Thee Stallion in New York City.
It is the first time BTS members met with Stallion who added the rap vocals for the remixed version of "Butter" that was released on Aug. 27. The track catapulted the group back to No. 1 on Billboard's Hot 100 chart early this month.
Stallion took a group selfie with the Bangtan Boys with the New York skyline as the backdrop.
"It's Thee Hot Girl Coach and BTS @bts_twt," Stallion tweeted alluding to the first part of her rap verses in the song.
In one of the group shots, Jimin and J-Hope joined Stallion in doing the iconic tongue-out pose. In another photo, the "Dynamite" artists gathered around Stallion's dog, Foe Thee Frenchie, with V and Jimin being completely taken over by the hound's charms.
Stallion shared the same photos on her Instagram account which garnered over 3 million likes from fans.
Previously, Stallion was embroiled in a legal battle with her record label, 1501 Certified Entertainment, whom she accused of blocking the release of the track which forced her to seek legal action.
Stallion says she believes the track will help her expand her international fanbase but her label believes otherwise, TMZ reported.
A Texas judge later ruled in favor of Stallion which led to the release of the "Butter" remix according to its scheduled date.
On Twitter, fans also rejoiced over the meet-up between BTS and the American rapper.
"Look at bts living their best lives… they did a collab with megan and coldplay, got awarded diplomatic passports from their own president and continued to be a voice of hope for so many people… we love to see it," a Twitter user said.
Another user said, "I need the Megan X BTS Bangtan Bomb now. I need an entire episode. Make it 30min. I need footage."
Meanwhile, another fan speculated on another collaboration between BTS and Stallion, writing, "Wait. BTS agreed to feature on a Megan track in their negotiations…Did they meet up to discuss meg ft BTS!!??"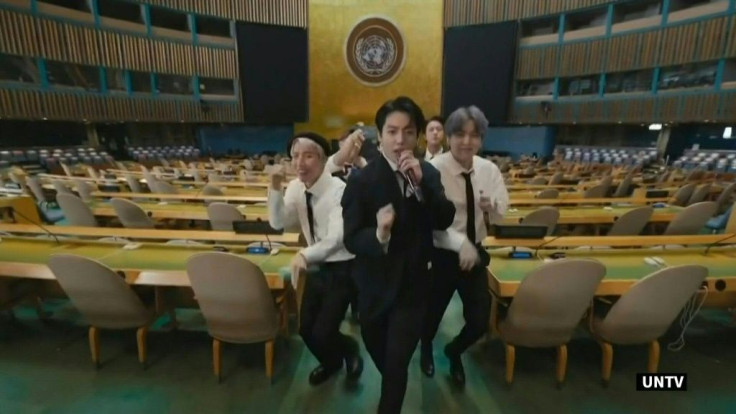 © Copyright IBTimes 2023. All rights reserved.