BTS Wins 3 Trophies At MTV Video Music Awards Including Group Of The Year
KEY POINTS
BTS also received the best K-Pop award
"Butter" won the Song of the Year award
MTV didn't honor voting results for Best Pop category: ARMY
The most loved boy band BTS was awarded Group of the Year, Song of The Summer and Best K-pop in Sunday's star-studded MTV Video Music Awards (VMA).
For three consecutive years, BTS has been the recipient of the Group of the Year title for its impressive achievements in the music industry. This year, the boy band bested Blackpink, CNCO, Foo Fighters, Jonas Brothers, Maroon 5, Silk Sonic and Twenty-One pilots for the award.
The septet was unable to fly to New York due to COVID-19 concerns but they sent a message of gratitude to MTV and their fans through a video message.
"Hi, we are BTS! Thank you VMAs for the "Group of the Year" award. And ARMYs, this is all possible thanks to you guys. Though we can't meet in person, we feel your love every minute, every second. We love you and we miss you. Thank you so much!," BTS said in a 17-second YouTube shorts video.
The group sent a different video clip in accepting their Best K-pop award.
In the short clip, the group began their message jamming to the first two lines of their monstrous hit, "Butter" which also won the Song of the Summer award.
"Smooth like butter like criminal undercover Gon' pop like trouble breaking into your heart like that," BTS said.
The Bangtan boys also gave a shout-out to their loyal fandom ARMY in the clip.
"Hey, we are, BTS. Thank you for this honor. Sorry, we couldn't be there. But hopefully next time, we will. We feel so blessed and grateful for all the love we received this year. Shout out to ARMY, the best people in the world. We will keep bringing great music and performance for you guys. Love you all!"
On Sunday, their victory became a trending topic on Twitter but not without some fans complaining that "Butter" should have won Best Pop song given the number of votes it received.
"Yeah? But doesn't change the fact that Butter isn't a Kpop song and that you gave a trophy to an artist who got eliminated in the first round," Twitter user @nekoniwa said.
Another user thinks MTV gave awards to BTS just to please the ARMY.
"That's what I was thinking did we get ripped off again,"@magicshop4023 said.
Another fan questioned how MTV comes up with the winners of the awards in relation to fan votes.
"Right - didn't BTS win voter choice for best pop? What's the point of voting then if they can just unilaterally ignore the votes? What a ridiculous and misleading process," @ot7intheOC said.
On Sunday, the Best Pop award went to Justin Bieber for his song "Peaches" featuring Daniel Caesar and Giveon.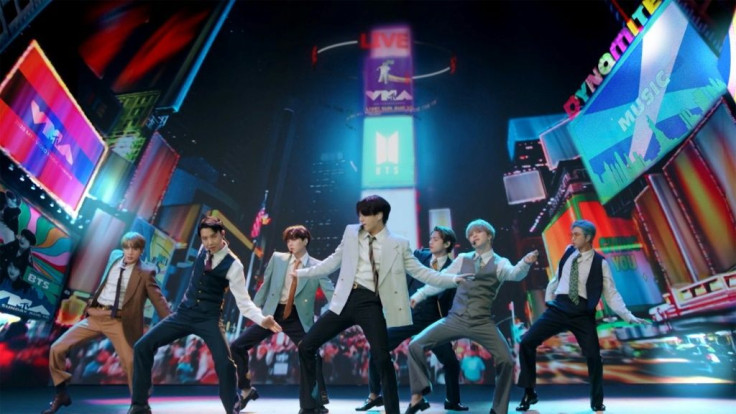 © Copyright IBTimes 2023. All rights reserved.