Buffalo Snowstorm Pictures 2014: Second Lake Effect Storm To Hit New York [PHOTOS]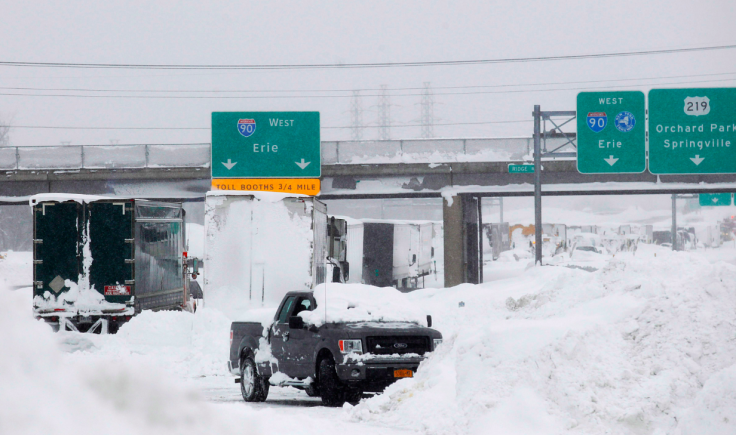 As if 65 inches of snow weren't enough, western New York state is slated to face a second round of lake effect snow, the Buffalo News wrote Wednesday. The storm is supposed to begin about 11 p.m. Wednesday and last until Friday afternoon.
Niagara Falls, New York, has already reportedly been hit with some of the new snow, the National Weather Service Buffalo tweeted Wednesday. The Twitter account shared a series of pictures to depict the mammoth snowfall that the Buffalo area has faced this week.
A quick reminder: It's not even officially winter, which begins Dec. 21.
New York Gov. Andrew Cuomo has been active on Twitter since western New York became inundated with snow. The governor, who is lodging in Buffalo for the night, has reportedly oversaw snow removal operations and has advised people remain indoors since it's "treacherous" out there.
The governor shared a series of pictures on his Flickr account; they shows the time he has spent in western New York so far. Click here to view the photos.
Cuomo told Time Warner Cable News in Albany that all this snow could break records that have been held for more than 100 years. "Buffalo is very good at handling snow, but this may break, literally, records that have been in existence for over 100 years," Cuomo said. "A lot of snow is one of the understatements of all time."
As far as making sure there were enough workers and equipment to handle the immense snow removal, he said it would probably be the "largest deployment" ever. And even though it will be "very difficult," he added, "This is what New York does best."
A state of emergency was declared for 10 counties in western New York. At least seven people have died from the fatal storm.
The severe weather is supposed to subside over the weekend.
Follow me on Twitter @mariamzzarella
© Copyright IBTimes 2023. All rights reserved.