The Business Of Marijuana: Will Edible And Concentrate Brands Get As Big As Budweiser?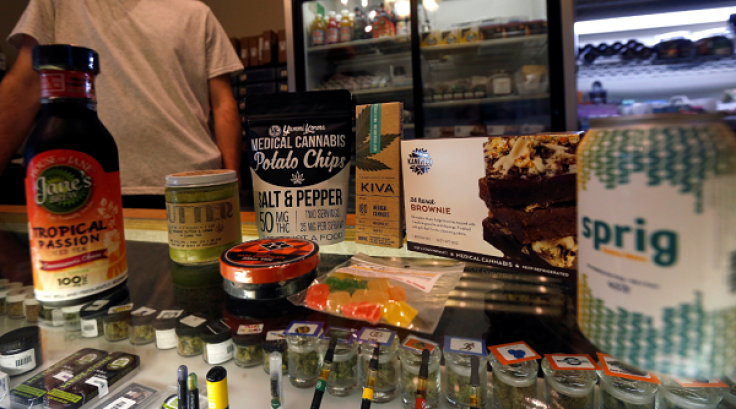 Gone are the days of stoners being forced to choose between one or two marijuana products in clear plastic bags sealed with plain stickers. Now, when a customer goes into a dispensary, they have options.
Shelves are stacked with marijuana flowers with intriguing labels like Caramel Candy Kush and Alice in Wonderland. Edibles have mouthwatering titles like Dreamy Milk Chocolate Bar contained in individual wrappers adorned with gold foil. Cannabis-infused Calming Cremes sit in sleek white bottles stamped with stylized metallic blue leaves.
It's all part of a branding strategy helping marijuana companies newly energized by legalization get their products bought by more mainstream audiences.
"People need to know which brands to trust. You know that Coca-Cola tastes exactly the same every time you drink it. It tastes exactly the same as it did when you were a kid, and that's who you trust. You trust that Coca-Cola isn't going to poison you. And that's a real fear for some people. So that's where brands step in," said Jim Patterson, CEO of Eaze, a California home-delivery dispensary app.
Now that marijuana is a multi-billion-dollar business, companies are starting to pay much more attention to the details of selling the plant. In recent years, popular products have become household names in stoners' homes, giving some industry leaders reason to believe that, with improved packaging and advertising, cannabis companies could eventually transform into brands as widely recognized as Budweiser and Marlboro.
"The trend we'll see — and especially as things go more national — is larger brands emerging in the industry around these specific product categories," Patterson said. "There's going to be major edible brands, major concentrate brands, and that's the way mass market consumers are going to make their purchasing decisions."
When marijuana first became legal recreationally in Colorado back in 2014, there was an outpouring of ambitious business owners looking to fill up dispensary shelves with their THC-laden creations: gummy bear edibles, flavorful flowers, powerful concentrates and nifty utensils. But they soon learned they needed to address not only quantity but also quality. They had to make their products stand out.
One way to do that was through branding, or consistently and concisely showcasing exactly what a customer was getting when they purchased a specific company's products. Companies started to emulate business models similar to other retail industry powerhouses by beefing up their presentation, creating quirky and unique logos, and stamping items with interesting catch-phrases and slogans. They began putting forth effort to make their products more distinguished and memorable — all with the goal of generating customer loyalty.
Though each business did it differently, they collectively established a trend: The number of clear-cut marijuana-focused brands jumped from 465 in 2015 to 975 last year. By the end of 2016's third quarter, 40 percent of all products sold came from recognized brands, according to a January report from Arcview, a market research firm that has analyzed and tracked marijuana-related investments and trends since 2013.
In total, that amounts to more than $150 million in branded products.
Now, for instance, instead of customers buying chocolate edibles loosely wrapped in flimsy plastic with a company's name stamped in unimpressive black-and-white lettering, there are a slew of up-and-coming brands starting to have major aesthetic appeal with customers.
Marley's Natural sells its buds compacted in clean, clear canisters stamped with their hard-to-miss lion logo. Alchemy's aromatic botanical blends of THC oils that can be puffed are available in sleek black and silver vaporizers. Apothecanna's refreshing THC-infused skin care line comes in bottles that could easily sit on shelves in an upscale department store, while THC Factory buds come cleverly packaged in aluminum tins similar to, but more stylish than, tuna cans.
And the market is only expanding. As more states pass legislation legalizing marijuana, Patterson suggested retailers will eventually start to see bigger brands form within the industry just like they have in the tobacco and alcohol businesses — think Philip Morris, known for its Virginia Slims and Parliament cigarettes, or Anheuser-Busch's signature line of Bud Lite.
In Colorado alone, dispensaries have seen a surplus of branded products hit shelves. Whereas branded and packaged products only represented about 27 percent of Colorado's legal market in 2014, the success of edible, concentrate and flower products produced known brands like Snoop Dog's Leaf by Snoop, Willie's Reserve and RAW Natural Rolling Papers has since led to sales of packaged and clearly branded products increasing by 260 percent by 2016, according to Arcview.
However, the industry is not without growing pains.
Marijuana is still technically a federally illegal drug — the plant remains on the Drug Enforcement Agency's Schedule I listing despite being legal for use in some capacity in 28 states and the District of Columbia — which means that before mass branding or broadening the cannabis retail space can actually happen, the plant's federal listing would need to change first, said Eric Gaston, co-founder of The Evergreen Market dispensary in Washington.
Another hurdle: The hundreds of customers who visit his dispensary each week haven't shown the type of brand loyalty needed to generate household names just yet.
"We definitely have people that come in, in particular with flower, where there's a grower a customer likes and [the way that grower produces flower] resonates with a customer. As far as edibles go, there are certain brands that people ask for. But if we stop carrying a specific brand, we really haven't had a lot of pushback from clients or customers," Gaston said.
Despite this, some brands have already begun to set themselves apart.
Incredibles, a company that has been selling handcrafted chocolate bars wrapped in colorful packaging with green-and-white lettering, has been around since 2010. Their products are sold in more than 760 dispensaries in the U.S. Bhang, a leading edible, concentrate and vaporizer brand, has won the High Times' Cannabis Cup — the world's first and leading competitive marijuana trade show — five times. Both brands have dominated since the early days of the industry thanks to their high-end, consistent and cohesive product strategies.
That's the goal for the marijuana industry at large.
"You can start to see all of these brands evolving as cannabis becomes more acceptable," Patterson said. "This is something I'm ingesting in my body, I need to have some level of trust around quality, consistency, and that's really what a brand represents."
© Copyright IBTimes 2023. All rights reserved.