Button Opens Marketplace For Connecting Apps With Partners Uber, Airbnb, Foursquare, Ticketmaster And Miami Dolphins
Mobile app startups thirsting after a partnership with some of the biggest competitors in the app ecosystem today (including those in the $1 billion club: Uber and Airbnb) now have easier access to potential integrations. Button, a tech startup dedicated to connecting mobile apps, opened its system to new customers and announced new partnerships Thursday.
Founded in 2014, Button launched with a goal to "connect the apps where people spend time with those where they spend money," said Michael Jaconi, Button's CEO and co-founder. Jaconi's team locked down a partnership with Uber in November 2014 and also has been supporting integrations with apps that offer other functions in the modern on-demand and gig economy. Button has partnered with search app Foursquare and most recently announced ventures with Airbnb, OpenTable, Ticketmaster, Delivery Hero and the Miami Dolphins sports team.
Button helps link the functions and the content from particular apps. For instance, when an app user opens Foursquare and finds a restaurant, they can see an option for booking a reservation with the app OpenTable or hailing a car with Uber. Each of those connections are powered by Button's system. Users who do not already have the related apps are prompted to download it. Those who do can take the next steps within the original app.
That system, referred to as "deep linking," helps drive new revenue sources for apps. Button generates revenue by taking a cut each time a transaction is completed through that commerce system. The partners also are able to tap into a cut of the related transaction, thereby creating revenue streams beyond their own product offerings as well as beyond traditional mobile app advertisements.
"We don't bill ourselves as an ad company," Jaconi told International Business Times. "We're allowing companies that are developing a strategy around commerce to tap into revenue sources. Rather than seeing an ad within a stream, we're showing consumers what we think a related action would be."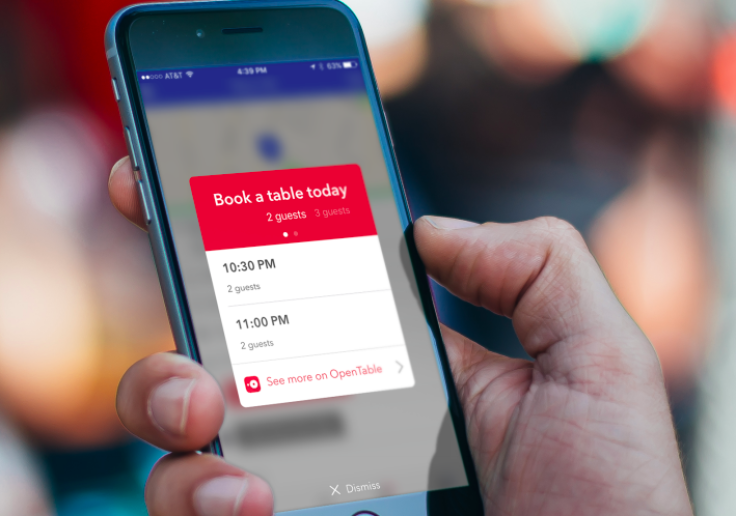 Button divides its app marketplace into four categories: transportation, dining and experiences, entertainment and travel. The company, a team of 24 based in New York, has partnered with some of the most well-known brands and is continuing to build on its core offerings. Yet, it's evident that not every company needs a third-party source for connecting apps. For instance, Uber powered its own integration with Spotify. Other companies have taken advantage of connecting through the open systems, called application program interface (APIs), released by companies such as Twitter and Foursquare.
Yet even the teams that are well-funded and supported by dozens of engineers have tapped Button. "At Foursquare, our goal is to help people find great experiences, wherever they are in the world," said Mike Harkey, vice president of business development at Foursquare. "Working with Button has allowed us to simplify the experience for both our users and our development team. We've made the process of finding and booking a great meal a few taps closer."
Those integrations may not be as easy to develop and manage for younger apps, where Button's Jaconi has identified future partners. "I think speed is the biggest answer there to what we have to offer. Any company can go build integration, but we have it already," Jaconi said. "We can expose this marketplace. We give them the freedom to connect their partners."
Button is supported by $14 million in venture capital funding, led by Redpoint Ventures, Greycroft Partners, DCM Ventures, Accomplice and Vayner/RSE.
© Copyright IBTimes 2022. All rights reserved.
FOLLOW MORE IBT NEWS ON THE BELOW CHANNELS