Caitlan Coleman's Father Dragged Her Canadian Husband Joshua Boyle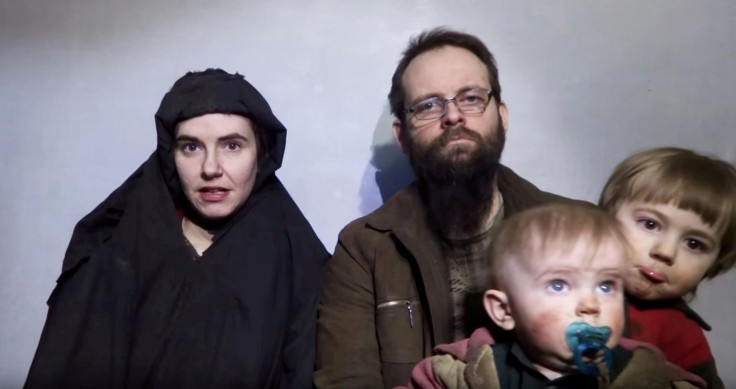 American Taliban hostage Caitlan Coleman's father dragged her Canadian husband Joshua Boyle for his "unconscionable" decision to take his pregnant wife to Kabul, Afghanistan, in 2012. Coleman's father placed full blame on Boyle over their abduction, which happened five years ago.
Coleman and Boyle were captured by the Taliban while on a hiking vacation. They had planned to dedicate several months towards hiking through Tajikistan, Kazakhstan and Kyrgyzstan, with promises made that they would avoid initially Afghanistan. The couple did not inform their families that they were expecting a newborn child at the time of the trip.
"What I can say is taking your pregnant wife to a very dangerous place, to me and the kind of person that I am, it's unconscionable," Coleman's father, Jim, told "Good Morning America" Friday.
Pakistan worked in conjunction with the United States, who had intelligence on the situation, to rescue the hostages. The Boyle-Coleman family were in the trunk of the kidnappers' car at the time of the rescue, according to reports. Pakistani military forces shot and fatally wounded five of the captors. Although the U.S. military had an aircraft ready to fly the family out, Boyle had rejected the offer, NBC News reported Friday. The family waited to board a commercial flight with Canadian officials Friday.
It remains unknown why the family refused to immediately leave by way of U.S.-supplied transportation, even to Coleman's father.
"I don't know what five years in captivity would do to somebody, but if it were me and I saw a US aircraft and US soldiers, I'd be running for it," Jim Coleman added.
"My family is obviously psychologically and physically shattered by the betrayals and the criminality of what has happened over the past five years," Boyle told the Toronto Star in a phone interview Thursday. "We're looking forward to a new lease on life, to use an overused idiom, and restarting and being able to build a sanctuary for our children and our family in North America."
Boyle added, "I have discovered there is little that cannot be overcome by enough Sufi patience, Irish irreverence and Canadian sanctimony."
President Donald Trump addressed the joint rescue made by possible by the U.S. and Pakistan in a press conference Thursday. Trump thanked Pakistan and its government for aiding in the release of the Boyle-Coleman family Wednesday.
"Yesterday, the United States government, working with the Government of Pakistan, secured the release of Caitlan Coleman, Joshua Boyle and their three children from captivity from the Haqqani network, a terrorist organization with ties to the Taliban," Trump told reporters Thursday. "The Pakistani government's cooperation is a sign that it is honoring America's wish for it to do more to provide security in the region."
Trump added, "I want to thank the Pakistani government and I want to thank Pakistan. They worked very hard on this, and I believe they're starting to respect the United States again."
An Afghanistan man emailed two videos of Coleman and Boyle pleading for help to their families in 2013, which was later released by Coleman's family in June 2014. It offered the first clues to the whereabouts and condition of the couple and their children.
The Taliban group continued to keep the Boyle-Coleman family alive, despite deaths threats because of the killings of Taliban members made by the U.S. and Canada, the Washinton Post reported Friday. The fifth and final video emerged in September, right before they were retrieved and freed.
© Copyright IBTimes 2023. All rights reserved.