Caleb Kennedy Exits 'American Idol' After Controversial Video Surfaces, Says 'I'm So Sorry'
KEY POINTS
Caleb Kennedy sat next to someone who donned Ku Klux Klan hood
The singer confirmed on social media he is leaving "American Idol"
"American Idol" airs every Sunday at 8 p.m. ET on the ABC network
"American Idol" finalist Caleb Kennedy has exited the show after a racist video of his, in which he sat next to a person who wore a Ku Klux Klan hood, surfaced on social media.
While the show or the ABC network has not commented on the exit or the video, Kennedy took to Instagram on Wednesday to reveal he won't be a part of the show because of the video, he captioned, "An update from me, about American Idol."
"Hey y'all, this is gonna be a bit of a surprise, but I am no longer gonna be on American Idol," the 16-year-old singer wrote. "There was a video that surfaced on the internet and it displayed actions that were not meant to be taken in that way. I was younger and did not think about the actions, but that's not an excuse. I wanna say sorry to all my fans and everyone who I have let down."
"I'll be taking a little time off social media to better myself, but saying that, I know this has hurt and disappointed a lot of people and made people lose respect for me," he continued. "I'm so sorry! I pray that I can one day regain your trust in who I am and have your respect! Thank you for supporting me."
A user had tweeted the video and captioned it: "American idol contestant: caleb kennedy . he posted a video thinking it was funny of his friend in the kkk mask. and i called him out on it and he blocked me."
The user also shared the screenshot of the singer's profile after he was blocked, "after i commented on his page telling him to address it, he blocked me."
Since the video resurfaced, netizens took social media to share their mixed reactions.
One of the users wrote, "Caleb Kennedy don't let your mommy fight your battles. Admit your mistake, apologize and move on. You don't need crap excuses like you and your buddy were watching the Strangers. Clearly not the same"
Another user wrote, "Today I learned that not tolerating someone who keeps company with the KKK is a "softie". WTF IS THIS WORLD." A user also reflected on the singer's contribution in the controversial clip and noted, "maybe don't sit next to people wearing KKK hoods??????"
It seems that Sunday's episode will consist of only four finalists and one contestant will get eliminated instead of two. "American Idol" airs every Sunday at 8 p.m. ET on the ABC network.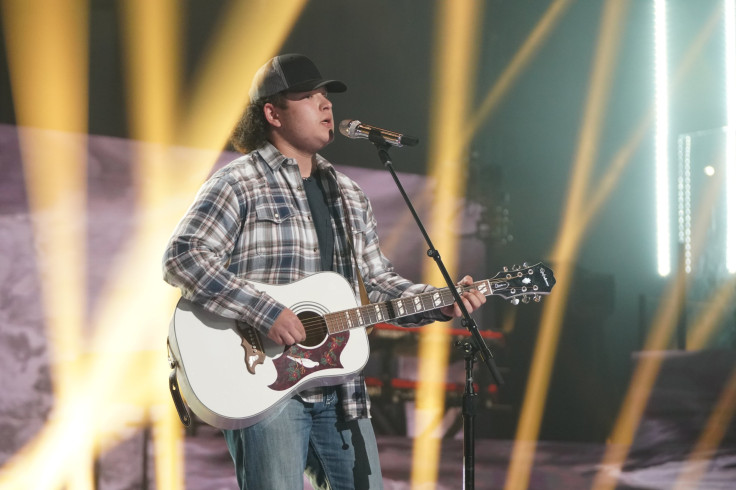 © Copyright IBTimes 2023. All rights reserved.
FOLLOW MORE IBT NEWS ON THE BELOW CHANNELS