California Father Daniel Mitchell Arrested For Abandoning Baby In Parking Lot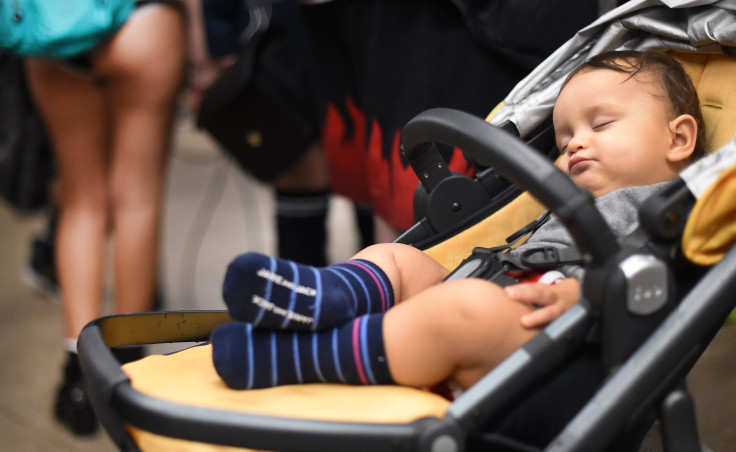 A California man was arrested Monday afternoon for abandoning his 16-day-old baby boy in the Suisun City. Police recovered a surveillance footage where the man was seen abandoning the infant in the parking lot of a mall in that area. The infant was flown to an Oakland hospital after the mall officials noticed abnormalities in the baby's eyes. He is said to be in a critical condition.
Daniel Stephen Mitchell, 18, was taken into custody on probable cause for child endangerment, child abandonment, committing felony while on bail, and misdemeanor for suspected possession of cocaine, Suisun Police said.
Read: Hot Car Death Stats: How Tech Can Help Prevent Incidents
While officers reached the mall where Mitchell left his baby, the teenager was involved in a car crash in Fairfield. He was taken to a hospital after he suffered a shoulder injury. After being interviewed by the investigators and being identified as the infant's father, he was arrested.
Around 3 p.m. EDT, Monday, a pair of barber shop employees at the mall in Suisun City noticed a car seat placed in the parking lot and went to pick it up when they saw the baby inside it. The employees took the baby inside the shop and called the police.
"He [the father] pulled up, took the baby out, put him down," said Wendell Cooper, an onlooker, describing what he saw outside the barber shop, in a report published by NBC Bay Area, a local news platform. "He sat him down, took him back out then he gets in the car and he leaves."
"It's heart breaking and something I've never seen in my life," Karan Grewal, Mega Smoke Shop owner, said, according to KCRA 3, an NBC affiliate.
Erick Keeton, the barber who took the baby inside his shop and called the police, said: "I walked over (there) and saw the baby sitting in the car seat."
"I noticed he had his binky, he was wrapped up in a blanket, he had a diaper on and he appeared to be fine. His tongue was a little white maybe like he just had a bottle recently."
Surveillance footage from one of the shops in the mall captured the entire incident and it led the police to trace the car's number plate back to Mitchell.
Mitchell was previously arrested on June 27 on several felony charges, including possession of a firearm, after a burglary was reported in Gray Hawk Lane, police told NBC Bay Area.
Read: Amanda Hawkins, Texas Mother Charged In Deaths Of 2 Toddlers After Leaving Them In Hot Car For 15 Hours
On Monday, another similar incident was reported in Tempe, Arizona. In a body cam footage, a newborn baby —whose umbilical chord was still visible — was found abandoned inside a backpack at a grocery store. The video was taken June 4. Shoppers and employees near the grocery store tried to rescue the baby, according to ABC15 News. "It was just dropped off by somebody," a man is heard saying on the body camera.
"Where was it found?" asked an officer. "In a grocery cart," he replied. Further investigation is underway after the baby was taken to a hospital and was said to be in a good health.
© Copyright IBTimes 2023. All rights reserved.