California Marijuana Growers Reel From Cannabis Farms Consumed By Wildfires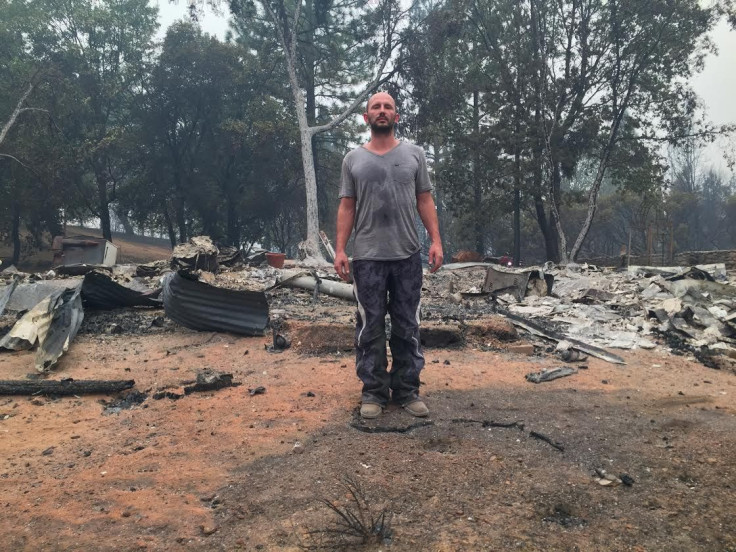 Mike Ray got the call one afternoon in mid-September, while he was in San Francisco working at Bloom Farms, the medical marijuana company he founded. The Butte Fire, which has been burning in Calaveras County northeast of the Bay Area for over a week, was moving toward his family's 300-acre farm. The operation, at the foot of the Sierra Nevada mountain range, had been Ray's home as a teenager and had a 99-plant marijuana grow that was the main source of his company's high-cannabidiol (CBD) cannabis oil. There had been close calls with wildfires in the area, but the blazes had always changed directions before reaching the farm.
This one, however, didn't look like it was going to shift.
Ray, 36, drove to San Andreas, the Calaveras county seat, where he met his parents and brother, who'd been evacuated from the farm. Trucks and horse trailers clogged the streets and ash fell from the sky like snowflakes. "It was really ominous," says Ray. "It looked like a nuclear bomb had gone off on the mountain range behind us, which was our area."
Ray and his brother drove back toward the blaze, talking their way past a roadblock, and later that night they watched from across a canyon as the fire consumed their farm. "We were watching pine trees explode like matchsticks," he says. "You feel extremely small in the universe when you witness a forest fire from that close. Nothing could be done."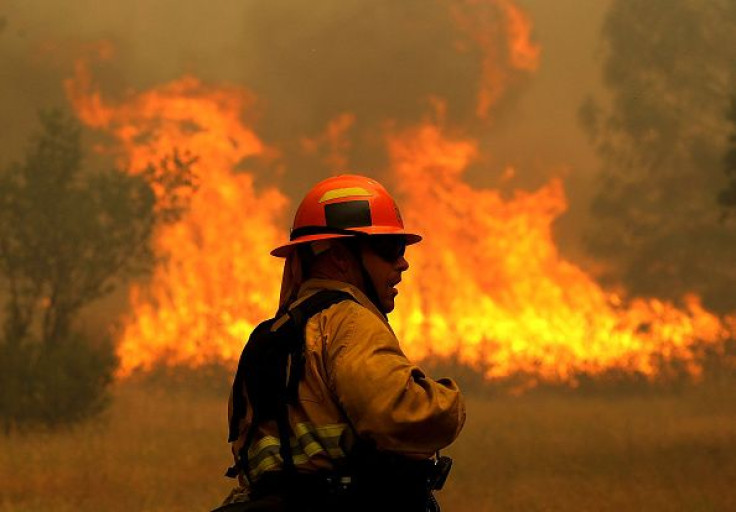 Ray's farm was far from the only cannabis consumed by California blazes. The state's 2015 wildfire season, among the worst in recent memory, took a major toll on the state's marijuana industry, since several of the largest fires in northern California, such as the Butte Fire in Calaveras County and Rocky Fire and Valley Fire in Lake County, raged in prime cannabis growing areas. Those in the business figure that hundreds of marijuana farms were lost, with millions in total financial losses. Now, as the fire season winds down and the results of the fall harvest begin to hit the market, marijuana growers and business owners are taking stock of the damage, trying to gauge just how much of their celebrated crops went up in flames.
Barbecued Bud
On Ray's property, the Butte Fire, which covered more than 70,000 acres, burned roughly 500 homes and claimed two lives, took everything: The house where Ray and his brother lived, their parents' cabin and all 99 of their marijuana plants -- an entire season's worth of work -- which were just a few weeks from harvest. He spent $100,000 producing those plants but is reluctant to quantify the final value of the crops he lost, since assigning dollar amounts to marijuana is tricky business in California. Like all medical marijuana operations in the state, Bloom Farms is a nonprofit, which means it isn't allowed to make a profit off the marijuana it grows.
Ray says the fire also consumed three other local farms from which his company sourced plants. All in all, he figures 100 or more total marijuana grows went up in flames in Calaveras County, a major cannabis growing region often overshadowed by the more prominent Emerald Triangle farther north.
Ray says Bloom Farms has connections to enough marijuana growers to survive the loss, but he's concerned for other cannabis farms in the area. "I'm very, very worried about the future of the county," says Ray. "Calaveras is one of poorest counties in California and is dependent on the underground industry of cannabis. Many, many people will not be able to rebuild and will have to move somewhere else."
Since much of California's marijuana industry operates in the shadows, it will likely prove impossible to ever fully nail down the impact of the summer's fires. "I think the full extent of it has yet to be realized and collated," says Timothy Anderson, purchasing manager at Harborside Health Center in Oakland, the state's largest dispensary. While Anderson works with hundreds of vendors, many of whom are located in areas hit by the wildfires, he often doesn't hear from many of them until they have product to sell -- which means that he might not know how many of them lost their crops this summer until next harvest season, in the fall of 2016. Anderson and others will also never know how many trespass grows were consumed on the thousands of acres of national forest lands that were lost. (The resulting marijuana smoke didn't get anyone high; to feel any effects, folks would have had to be sucking up air at the edge of the blaze.)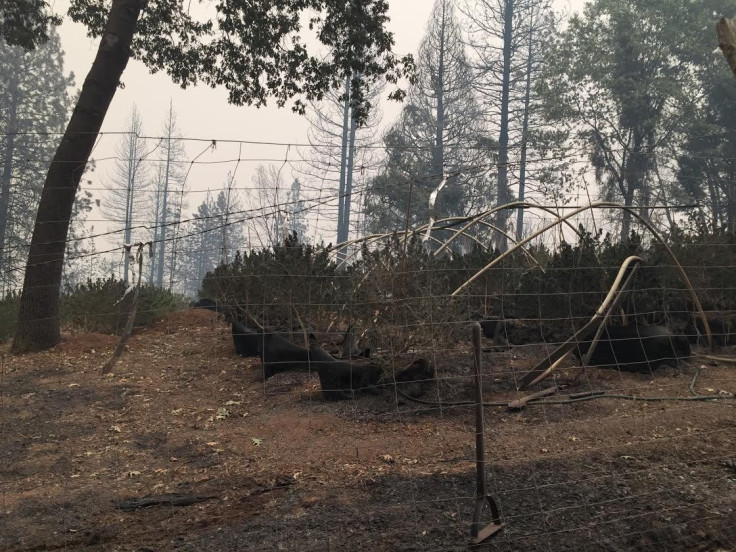 While the losses might impact market confidence, possibly driving up marijuana prices, there's little risk of actual market undersupply, says Hezekiah Allen, executive director of the Emerald Growers Association, an industry trade group. "California produces more cannabis than there is demand," he says. Allen is more concerned about the individual tragedies, such as the marijuana farmers who lost their annual incomes to the fires. What's more, because their crops are still illegal federally, these farmers can't take advantage of wildfire safety net programs offered by the U.S. Department of Agriculture to other farmers and ranchers, and very few of these growers likely had marijuana insurance policies that have only recently been developed.
Growers' marijuana plants didn't have to burn to be ruined. Some grows that were spared might still have dried up, if farmers were forced to evacuate and couldn't return in time to properly water the plants. And Anderson had to turn down product from one of his best outdoor growers because it tasted of wildfire smoke. "I took some home and smoked it," says Anderson. "It had a thick barbecue taste to it."
From The Ashes
For growers who lost crops in one fashion or another, the devastation could produce impacts for years to come. As Anderson points out, much of the state's informal industry is based on relationships between growers and buyers built through annual interactions. "Someone whose farm burns down or loses his crop and he doesn't come back for a year, by that point our business relationship could have changed," he says. "Any time someone steps out of the market, you find someone else to replace him with." And since California recently passed new statewide medical marijuana regulations and could be voting on full legalization next year, now is not a good time for established cannabis growers to lose their foothold in the developing industry. "If you don't have a crop in these crucial years, where are you a year or two down the road when the whole market is ready to shift?" says Anderson.
It's why some California marijuana growers see the fires as a sign that it's time for change. That includes a marijuana grower in Lake County who, speaking on condition of anonymity, says he lost a 400-plant crop worth $800,000 when the Rocky Fire consumed his greenhouses in early August. A month later, he nearly lost one of his three remaining grows in the region to the Valley Fire. Now he's planning on moving his entire operation to a part of the state less prone to such catastrophes. "I am going to liquidate and find a new location," he says. "As this drought continues, it is obviously going to cause more wildfires and water shortages. It is going to force people to relocate. It is going to change how people grow, period."
Ray, however, aims to rebuild his family farm where it stood in Calaveras County. He figures that the fire could have an upside, if it encourages the county to finally recognize and legitimize the underground industry on which many of its residents stake their livelihood. "I have a vision that if Calaveras County could embrace the industry, we could build the Napa of cannabis up there," he says. "Being only two hours and 15 minutes from San Francisco, it's very doable. Ten years from now, it could be an entirely different place. Disaster like this could bring a change."
© Copyright IBTimes 2023. All rights reserved.