California Wildfires: 50,000 People Evacuated Across Sonoma And Los Angeles Counties As Fires Rage
Nearly 50,000 people have been evacuated as wildfires ravage the California hills, and Pacific Gas & Electric cut power to thousands of customers in rolling blackouts as a means of preventing additional infernos.
Evacuation efforts intensified Friday as firefighters battled the Tick Fire, which has consumed 5,000 acres in the Santa Clarita region of Los Angeles County since it began on Monday , and the Kincaide Fire, which began Wednesday in Sonoma County and has burned 16,000 acres. Two smaller fires have also formed in San Mateo County and San Bernardino County. Nearly 50,000 people have been evacuated.
Because of its population density, evacuation efforts have been concentrated on Santa Clarita County where nearly 40,000 residents had been evacuated as of Friday.
PG&E began cycling power Thursday to prevent fires from spreading. Around 180,000 homes across 15 counties were without power early Thursday morning. By Friday, power had been restored to all but Kern County.
The Tick Fire has proved costly not only to the state, but some of the A-list residents in Santa Clarita. One of its brushfires spread to the Pacific Palisades neighborhood Monday and threatened multimillion dollar celebrity homes. Some of the residents include director J.J. Abrams, musician Adam Levin, and actress Reese Witherspoon.
The Kincaide Fire has proved just as difficult to contain for emergency personnel in Sonoma County. Almost 2,000 residents of Geyserville had been evacuated as of Friday morning. The blaze has destroyed 49 buildings in the area.
While the source of the fire still needs to be investigated, reports indicated a jumper from one of PG&E's transmission towers broke near where the Kincaide Fire started. The report PG&E filed with the California Public Utilities Commission said the company was aware of a malfunction at 9:20 p.m. Wednesday. The fire started at 9:27 p.m.
The fire comes at a bad time for Sonoma County, home to California's wine country. Vineyards have worked to recover from the Tubbs Fire in 2017 that proved costly for residents and harvesters.
"There is still a lot of trauma in Sonoma County from the fires of two years ago and waking up to a day like today brings back a lot of memories," Sonoma County Board of Supervisors Chairman David Rabbitt told a press conference, Wine Searcher reported.
The good news for wine drinkers is that Sonoma County vineyards already had harvested most of the 2019 grape crop. However, vineyards in nearby Alexander Valley were still at risk.
Grass fires in San Bernardino and San Mateo counties were relatively small compared to the Kincaide and Tick fires, burning 95 acres each. The Old Water Fire in San Bernardino has forced the shutdown of a major highway while the San Mateo grass fire has slowly pushed toward the town of Pescadero.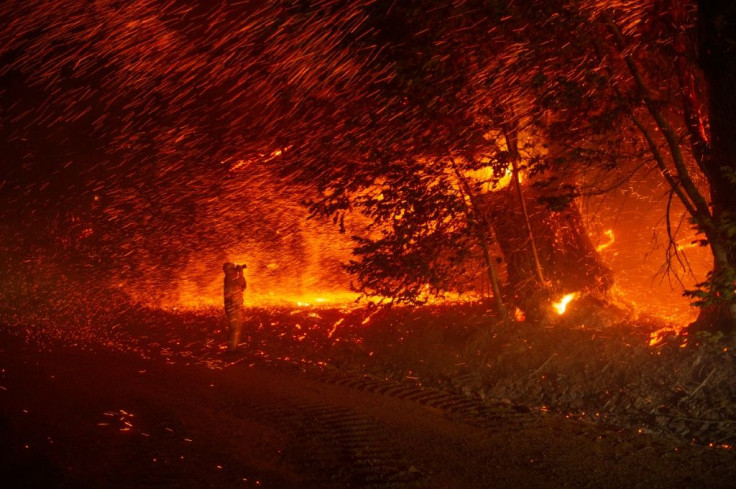 © Copyright IBTimes 2023. All rights reserved.