'Call Of Duty: Black Ops 3' DLC 5 Revealed - Zombies Chronicles Maps, Release Date & More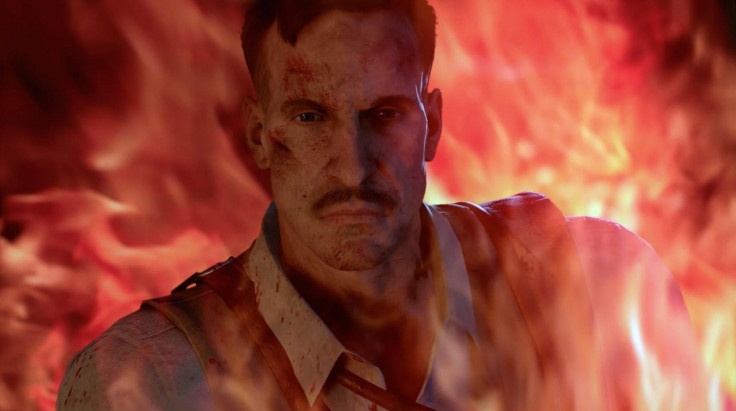 Call Of Duty: Black Ops 3 DLC 5 has finally arrived, and it's called Zombies Chronicles. In essence, the set features eight remastered maps from Treyarch-made games like World At War, the original Black Ops and Black Ops 2. Like all recent expansions, this one requires Black Ops 3 and will be made available first on PS4. The news was revealed on the JCbackfire YouTube channel.
Here's the full list of Zombies maps players will find when they load up the new content.
Call Of Duty: World At War - Nacht der Untoten, Verruck and Shi No Numa
Call Of Duty: Black Ops - Kino Der Toten, Ascension, Shangri-la and Moon
Call Of Duty: Black Ops 2 - Origins
In addition to full remasters of these existing fan favorites there will also be new Calling Cards to collect. These include character designs themed around Takeo, Richtofen, Dempsey, Nikolai and other heroes from the established lore.
Treyarch executive producer Jason Blundel revealed that his team had known about the existence of Zombies Chronicles since the Call Of Duty XP 2016 convention last September. Lots of fans bugged him about the controversial ending to Black Ops 3 Zombies, but at that time he couldn't reveal that there was more to come. Above all, the project was described as a "love letter" to players who supported Zombies at the beginning and those who've just started playing now.
Blundel remained quiet about any possible story hints that may or may not be buried in the DLC, but, if you pay close attention to the video, you can catch a quick glimpse of the complete Zombies timeline.
Zombies Chronicles marks the first time a Call Of Duty game has featured a proper fifth DLC expansion. However, given the immense popularity of Black Ops 3, we can't say we're surprised. After all, this particular content drop has been rumored and discussed for months. Sources found pictures of Richtofen's voice actor back in the recording booth, and retailers were quite open about leaking any official documents they could find.
Call Of Duty: Black Ops 3 Zombies Chronicles comes first to PS4 May 16 and is assumed to arrive on Xbox One and PC about a month later. A full livestream will happen May 8 with even more juicy details. This will likely include pricing and season pass info that was not shared today.
What do you think of Zombies Chronicles? Is it a strong stand in for DLC 5? Tell us in the comments section!
© Copyright IBTimes 2023. All rights reserved.