'Call of Duty: Black Ops Cold War' Players' Discovered Something Outside Die Maschine Gruesome
KEY POINTS
"Call of Duty: Black Ops Cold War" Zombies has another Easter egg
But players have to do some steps to uncover it
"Call of Duty: Black Ops Cold War" Season 1 is now live
"Call of Duty: Black Ops Cold War" players made an interesting Easter egg discovery in the game's Zombies mode. The discovery has to do with a massive gruesome creature that roams in the woods of Die Maschine. The appearance of the monster definitely sends shivers down to the spine even for the most seasoned "Call of Duty" series' players.
How To Find The Monster Outside Die Maschine
Several players discovered that the monster could be found by doing some simple steps when playing "Call of Duty: Black Ops Cold War' Zombies. Players need to enter the Dark Aether at Round 45 or higher. After that, they should go for the Quick Revive pond and should look to the forest from afar. After waiting for a few seconds, they would hear a growling noise and feel the ground shaking courtesy of the walking monster.
On YouTube, "Call of Duty: Black Ops Cold War" player and content creator Glitching Queen discovered that there is more that players could do to this Easter egg. According to her, players could change the route of the create and force it to get inside the Die Maschine map. But, when this is done, players could no longer fight it since they would be trapped below the map.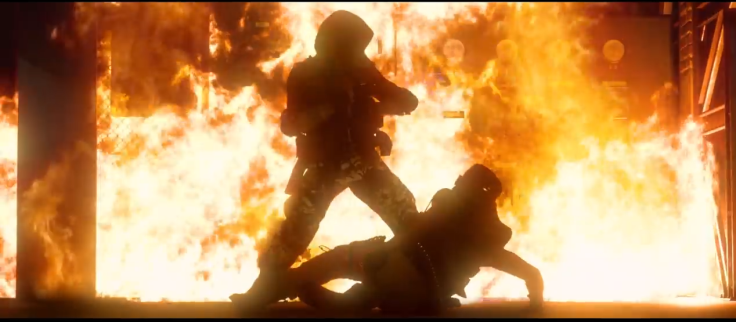 How To Let The Monster Enter The Die Maschine Map
To be able to do this, players need to enter the Dark Aether at the end of round 19, 29, 39 and so on. They should then proceed to the Pack-A-Punch area and survive for 115 seconds. If this is done properly, players would be trapped in the Pack-A-Punch area. They would feel the monster stomping directly above them.
When the stomping stops, players could go to Quick Revive pond to get a free Max Ammo. just like the Coffin Dance Easter egg, players must complete a mini-quest to receive the reward. As pointed out by Glitching Queen, the Max Ammo portion f the side quest is random and is entirely based on RNG. In other words, players could get lucky or not have the monster get on the map.
"Call of Duty: Black Ops Cold War" is now playable on various gaming platforms. This includes PC, Xbox One, Xbox Series X, Xbox Series S, PlayStation 4 and PS5.
© Copyright IBTimes 2023. All rights reserved.
FOLLOW MORE IBT NEWS ON THE BELOW CHANNELS