'Call Of Duty: Warzone' Guide: How To Unlock The Yellow Door On Rebirth Island
KEY POINTS
Many are excited about the arrival of the Season 1 update in "Call of Duty: Warzone"
The new season introduces Rebirth Island that features lots of easter eggs
One of them is the Yellow Door, which gives those who are able to unlock it surprising rewards
"Call of Duty: Warzone" Season 1 is finally live and it amps the level of excitement in the free to play battle royale game. One of the season's interesting features is the Yellow Door easter egg hunt on the new Rebirth Island. For players who wish to unlock the yellow door and earn its corresponding rewards, these tips and tricks might come in handy.
How to Find The Yellow Door in Rebirth Island
Players need to search first for an unlockable briefcase. Unfortunately, it spawns randomly anywhere on Rebirth Island. There are nine possible locations of the briefcase, but most players swear it could be found in security proximate to the coasts of the island most of the time. Players could also save time in finding the briefcase.
They could do it in the final seconds of the warm-up round before the game begins. Players in a team of three can split up into three spots during the warm-up to see if the briefcase shows up. Once players retrieve the briefcase, they would find three photos inside that point to three locations on Rebirth Island.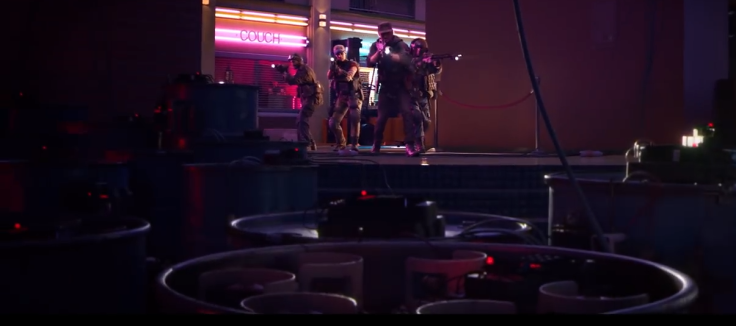 Players have to find these locations and visit each one to obtain a 2 or 3-digit code written on the wall. After seeing all these locations, players have one 2-digits code and two 3-digits code. The final pattern of the code will look something like this: 012-34-567.
Players should then proceed to Headquarters Command Center and key in the code on the Yellow Door. Inside, players would find an underground bunker that contains several legendary crates, grenades, killstreaks and a lot more. The major highlight is the Red Room Submachine Gun Blueprint that players could find on the table.
Players should pick it up to get the Blueprint and then swap it back to their original weapon. This way, it goes back on the table and other teammates could grab it.
Officially launched in March 2020, "Call of Duty: Warzone" Season 1 is now playable on various gaming platforms such as PC, Xbox One and PlayStation 4.
© Copyright IBTimes 2023. All rights reserved.
FOLLOW MORE IBT NEWS ON THE BELOW CHANNELS