Leaked 'Call Of Duty: WWII' Marketing Materials Reveal Release Date
Activision recently announced that it will finally reveal the next "Call of Duty" game called "Call of Duty: WWII" this week. New details about the upcoming first-person shooter, including its release date, have leaked online.
Marketing materials for "Call of Duty: WWII" were acquired and shared by CharlieIntel. It shows that Activision's game is going to be released on Friday, November 3. The materials also show that those who pre-order the game will have access to the game's private beta. Unfortunately, no date was given on when the private beta will take place, as pointed out by IGN.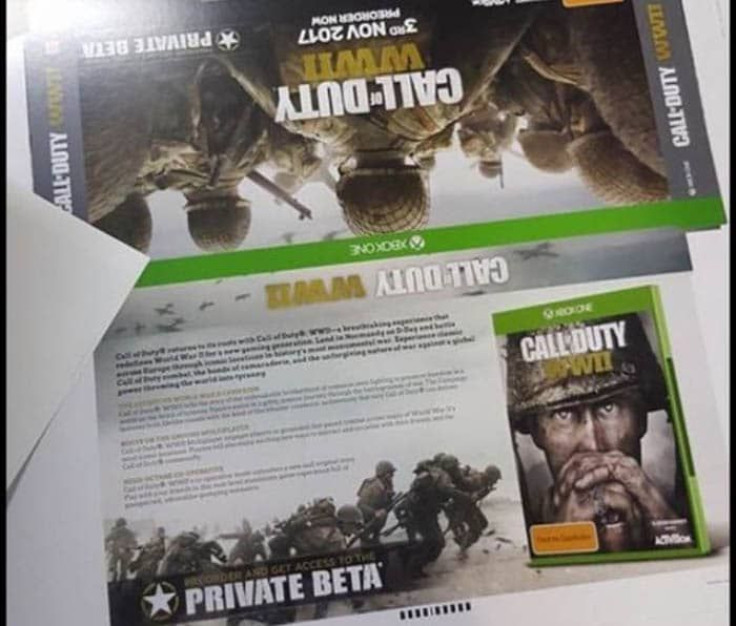 The leaked marketing materials, which include Xbox branding, did give out more information on what "Call of Duty: WWII" will be about. The game will start off in Normandy, France on D-Day, and payers will battle across Europe. There are also short descriptions for the campaign, multiplayer and co-op modes.
One of the most interesting details on the leaked materials is that "Call of Duty: WWII" might feature a co-op campaign. "'Call of Duty: WWII's' co-operative mode unleashes a new and original story. Play with your friends in this next-level standalone game experience full of unexpected, adrenaline-pumping moments," the description reads.
The Nov. 3 release date seems to be authentic. The last four entries to the "Call of Duty" franchise were all released during the first week of November. However, it's still possible that someone could have simply faked these marketing materials and deduced the release date based on its predecessors' releases, as pointed out by Kotaku.
Activision is set to officially reveal "Call of Duty: WWII" this Wednesday, April 26 at 10 a.m. PDT. In the meantime, fans can look at the first screenshots of the game which were accidentally published on the official "Call of Duty" website. A Reddit user was able to take the screenshots before Activision quickly took it down.

© Copyright IBTimes 2023. All rights reserved.