Camille Vasquez Denies Johnny Depp Dating Rumors: 'I'm Very Happy In My Relationship'
KEY POINTS
Camille Vasquez shut down rumors that she is dating her client Johnny Depp
The attorney slammed the speculation as "sexist" and emphasized that it is "unethical for us to date our clients"
Vasquez defended her and Depp's interactions in court, saying that she's "Cuban and Colombian"
Lawyer Camille Vasquez shut down rumors of a romance between her and her client Johnny Depp.
Vasquez became the breakout star of Depp's six-week defamation trial against ex-wife Amber Heard in Virginia due to her searing cross-examinations. However, the 37-year-old attorney also made headlines as people questioned the extent of her relationship with the "Pirates of the Caribbean" star, with some speculating that the two had started dating during the trial.
Vasquez addressed the romance rumors in a new interview with People, slamming the speculation as "unethical" and "sexist."
The lawyer, who has a boyfriend, said she's "very happy in my relationship" and pointed out that it is "unethical for us to date our clients."
"It's also an unethical charge being made. It's sexist," she told the outlet. "It's unfortunate and it's disappointing, but at the same time, it kind of comes with the territory. I can't say I was all that surprised."
Vasquez said she was disappointed that people thought her interactions with Depp in court were in any way "inappropriate or unprofessional," adding, "I guess it comes with the territory of being a woman just doing her job."
The lawyer explained that she "cares very deeply" about her clients and that Depp and his entire team, including herself, had become close over the years they'd worked together on his case.
Vasquez defended her and Depp's interactions, saying that she's "Cuban and Colombian."
"I'm tactile. What do you want me to say? I hug everyone. And I'm not ashamed about that," she said. "This man was fighting for his life and it broke my heart to see him day in and day out have to sit there and listen to the most horrific allegations being made against him."
"And if I could provide any bit of comfort, then of course I would do that, whether it's holding his hand or letting him know that we were there and we were going to fight for him because he deserved it," she added.
​​Following Depp's major win against Heard, Vasquez was promoted to partner at the Brown Rudnick law firm. She also became an online celebrity during the trial, with many TikTok posts and tributes made about her by fans.
The attorney admitted that she didn't see that development coming, calling the attention "funny," "surreal" and "overwhelming." She also expressed her hope that she was able to inspire some young women to stay in school and pursue a career in law.
When TMZ caught up with her Wednesday as she was leaving "Good Morning America" in New York City, Vasquez was asked if she would still see Depp even though his trial is over. "Of course!" she responded.
On June 1, a Virginia jury found Heard liable for defaming Depp and awarded the actor more than $10 million in damages. Heard, who filed a countersuit against Depp, was granted $2 million in compensatory damages.
The "Aquaman" actress plans to file an appeal, her lawyer said.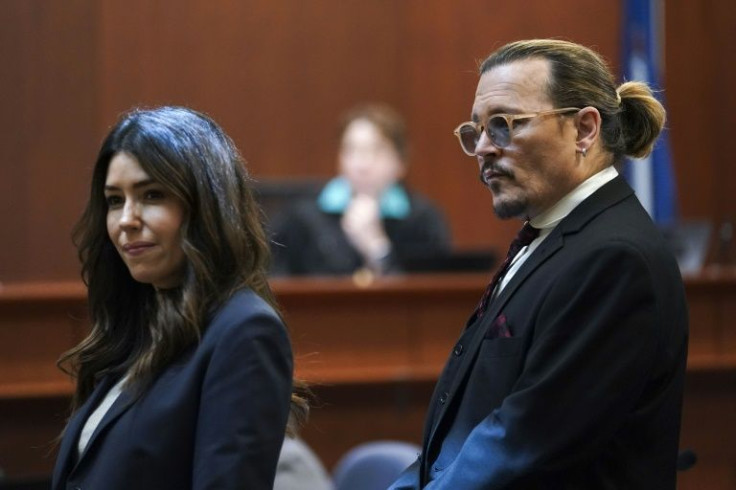 © Copyright IBTimes 2023. All rights reserved.