Can Bernie Sanders Beat Hillary Clinton In California? Economy Top Concern For Voters Ahead Of Primary
As former Secretary of State Hillary Clinton and Vermont Sen. Bernie Sanders campaign across California, voters in the Golden State are most concerned about jobs and the economy heading into the state's June 7 primary. For seven out of 10 people surveyed, the economy is their top concern, according to a Field Poll released Thursday, conducted for the USC Schwarzenegger Institute for State and Global Policy.
With 546 delegates at stake in California on the Democratic side, Sanders is pushing his message of income inequality. Speaking in San Bernardino Tuesday, he said if he's elected his administration will focus on creating 13 million jobs by fixing the country's "crumbling" infrastructure.
"Jobs are a major issue, not only around here but all over this country," Sanders said, the Sun reported. "We want to raise the minimum wage to $15 an hour so that anyone who works 40 hours a week is not living in poverty."
He's trailing well behind Clinton in delegates, though, with 1,539 compared to her 2,309, according to a count conducted by the Associated Press. On the Democratic side, 2,383 delegates are needed to secure the nomination. Meanwhile, Republican presidential candidate Donald Trump surpassed the number of delegates needed for the party's nomination Thursday, hitting 1,239.
Other top concerns for California voters include education and public schools, healthcare and terrorist threats. The survey found a divide among California's Democrats and Republicans on other issues.
"Likely voters in California's Democratic presidential primary are far more likely than their Republican counterparts to consider the following as salient campaign issues, and rank them among their top 10 issues: climate change, income inequality, college affordability, equal pay for women, ensuring clean air/water, and keeping the U.S. out of war," the survey said.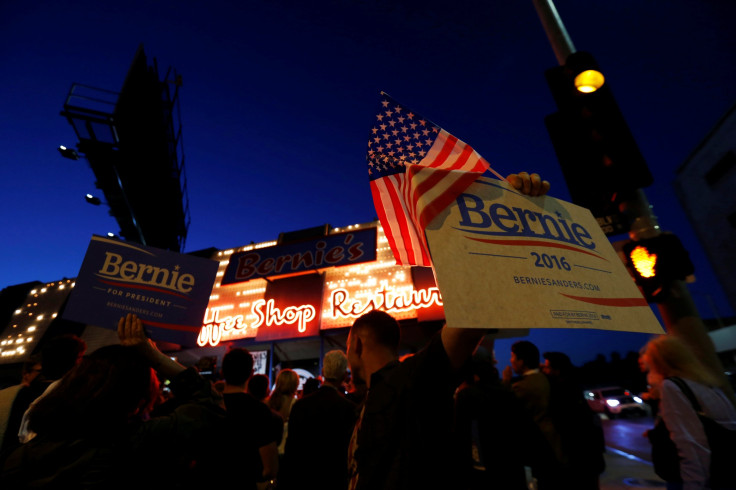 The field poll surveyed 1,001 registered California voters who are likely to vote in the state's primary. The poll was conducted from May 4 to 11 in both English and Spanish and had a 3.2 percentage point margin of error.
© Copyright IBTimes 2023. All rights reserved.
FOLLOW MORE IBT NEWS ON THE BELOW CHANNELS