Can Donald Trump Be Impeached? After 'Golden Showers Gate,' 4 Ways President-Elect Could Be Removed From Office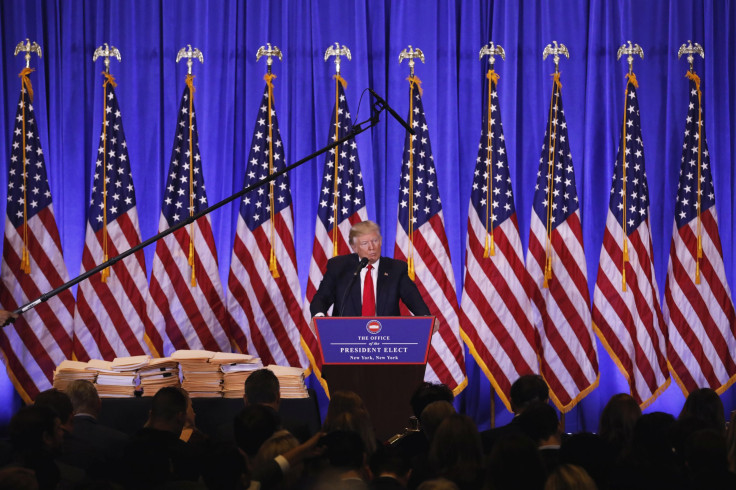 An unsubstantiated report this week had many wondering whether President-elect Donald Trump might be impeached. The allegations, published in the form of a 35-page dossier by BuzzFeed Tuesday night, claimed that Trump's campaign conspired with Russia in the lead-up to the election, and that the billionaire engaged in generally frowned-upon sex acts.
Trump has accused publishers of the document of initiating a "political witch hunt" and assailed them as "fake news," but, as the New York Times noted, some actions recounted in the document were "extremely serious, potentially treasonous acts."
The Constitution has defined grounds for impeachment as "conviction of treason, bribery or other high crimes and misdemeanors." There has been much debate about the meaning of the latter part of the phrase, with some legal experts arguing that such crimes must be equivalent to bribery and treason, and others adopting a broader approach. In the case of the failed attempts to impeach President Bill Clinton between 1998 and 1999, "high crimes and misdemeanors" meant perjury, obstruction of justice and abuse of power.
Read on for a brief list of Trump's verified offenses that could potentially fall into the Constitution's defined bases for impeachment.
Violating the Emoluments Clause
"… no person holding any office of profit or trust under them shall, without the consent of the Congress, accept of any present, emolument, office or title, of any kind whatever, from any king, prince or foreign state," Article 1, Section 9 of the Constitution reads.
Trump has previously bragged about the popularity of his international hotel among diplomats. He has also allegedly encouraged former British politicians to combat the construction of offshore windfarms that he believed lowered the value of his golf courses in Scotland. The president-elect will hardly be distancing himself from his company — which has interests in dozens of countries, among them the Philippines and Turkey — while leading the country.
Still, if this was grounds for violation of the Emoluments Clause, former campaign rival Hillary Clinton's activities related to her foundation might've been, as well.
(Possibly Illegal) Nepotism
Title 5 of the U.S. Code contains a rule stating that public officials "may not appoint, employ, promote, advance or advocate for the appointment, employment, promotion or advancement" or a relative. The rule includes "son-in-law" in its definition of the term "relative."
On Monday, Trump's transition team announced that Jared Kushner, the husband of Trump's daughter Ivanka, would serve as the incoming president's senior adviser. In a press conference Wednesday, Trump lawyer Sheri Dillon announced that Ivanka would be leaving her position at the Trump Organization and heading to Washington with her husband. Dillon did not clarify what Ivanka's role in the administration would be.
Encouraging Foreign Cyberattacks
At a Florida press conference in late July, while on the campaign trail, Trump called on the Russian intelligence community to hack his opponents' email servers. Those words amounted to "essentially urging a foreign adversary to conduct cyberespionage against a former secretary of state," as the New York Times put it.
Some have argued that encouraging any cyberattack on a government figure was tantamount to treason.
His Mounting Lawsuits
Most of the cases against Trump have concerned civil lawbreaking — like the Trump University class action fraud suit, which he settled in November for $25 million — and small complaints against his businesses, mostly for discrimination, unpaid bills and disputed contracts. USA Today has compiled a historical list of several thousand lawsuits against the real estate billionaire, involving trademark cases, his campaign's activities, his casinos, his golf clubs and unpaid taxes.
But as a University of Utah Law Professor Christopher Lewis Peterson wrote in a paper published in September, "the underlying legal elements in several counts [of cases involving the Trump University program] that plaintiffs seek to prove run parallel to the legal elements of serious crimes under both state and federal law." In other words, while the case may be settled, its implications may not be.
© Copyright IBTimes 2023. All rights reserved.
FOLLOW MORE IBT NEWS ON THE BELOW CHANNELS