Can Donald Trump Pivot? Seth Meyers Says Campaign Shakeups Don't Signal Change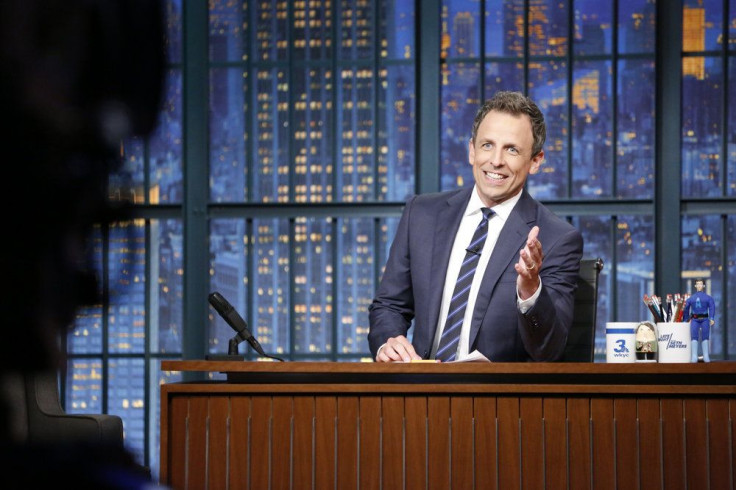 Everybody knows that if Donald Trump plans to win the November election, he will have to widen his appeal to voters outside of his white, working class base. Trump knows it, too — in response to low poll numbers the GOP Presidential nominee has made a number of changes. But Seth Meyers says Trump's campaign shakeups do not suggest any sort of pivot is actually coming.
On NBC's "Late Night" Monday, Meyers used his first "Closer Look" segment after a two week vacation for the Olympics to recap all the news from the Trump campaign trail while he was off the air. In that time, Trump made a lot of attempted shifts to widen his appeal, including a broad apology for offensive statements, a direct appeal to African-American voters and some shakeups to his campaign staff.
"The 2016 campaign has settled into something of a pattern: Donald Trump spends weeks saying inflammatory things that drive his poll numbers down, then for a few days he acts relatively normal, and the media thinks he's ready to get serious," said Meyers. "Well, it's happening again—even as Trump surrounds himself with people who feed his worst instincts."
Meyers ridiculed Trump for bringing in ex-Breitbart editor Stephen Bannon and ex-Fox News boss Roger Ailes to advise his campaign, two brash, far right figures Meyers argues want to double down on Trump's most offensive and alienating behavior and policies.
"Trump is like an alcoholic who fired his doctor and is getting medical advice from his bartender," Meyers joked.
The comedian blamed Trump's advisers for helping to formulate a strategy based on propagating narratives with little evidence, such as that election polls are rigged and that Hillary Clinton is in poor health.
Meyers also doubted the sincerity of Trump's apology and criticized conservative pundits who praised Trump's latest attempt at a "pivot" for holding the candidate to such a low standard.
"That's how low the bar is for Trump right now: Republicans are complimenting him for being 'mature,'" Meyers said. "They talk about their nominee the way people talk about a 5-year-old wearing a suit at a wedding."
© Copyright IBTimes 2022. All rights reserved.
FOLLOW MORE IBT NEWS ON THE BELOW CHANNELS