Clinton vs Trump: Latest Polls, SurveyMonkey Shows Hillary To Win, Tough Road For GOP With Black, Hispanic Voters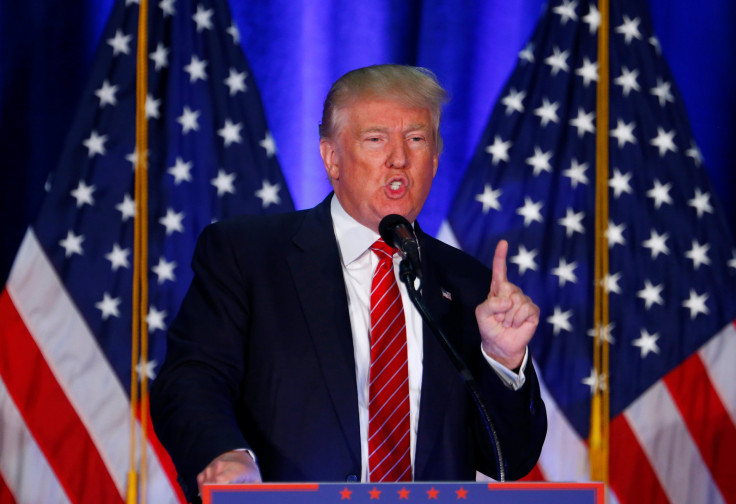 The polls are not being kind to Republican presidential candidate Donald Trump.
The reality TV star has some significant road blocks in his way, a new poll shows, if he wants to beat his Democratic rival this November. Former Secretary of State Hillary Clinton, a new NBC News/SurveyMonkey poll released Tuesday shows, leads Trump 50 percent to 42 percent.
That lead is virtually the same as what polls showed immediately after the Democratic National Convention bumped Clinton to the lead. A post-convention bump is a well-known and common phenomenon but Clinton's is showing notable resilience.
The new poll presents some other challenges for Trump, who this week has tried to brand himself as a champion for minorities he claims have been failed by Democratic policies. While Trump says that he would get over 95 percent of the African American vote should he become president and run for reelection in 2020, polling in 2016 shows that he has a steep climb if he wants to attract those voters.
Just 8 percent of black voters support Trump, the new poll shows, compared to 87 percent who support Clinton. Among Hispanic voters, Trump also trails by significant numbers. Just 22 percent of Hispanic voters are on team Trump, compared to 73 percent who support Clinton. As for Asians, just 23 percent support Trump compared to Clinton's 66 percent.
The new poll follows weeks of bad news for Trump. Just in the past week, the campaign has endured what have been characterized as massive shakeups (the campaign denies this label), including the appointment of a new campaign manager and the hire of new advisers.
When it comes to electoral predictions, Trump is an underdog, to say the least. FiveThirtyEight, which has been highly successful predicting the outcomes in the past two presidential election cycles, gives Clinton an 85.1 percent chance of winning (based on current polls) the presidency. Trump's weaknesses extend beyond traditional swing states like Pennsylvania, Ohio and Florida: They also include Republican strongholds like Arizona, FiveThirtyEight forecasts show.
© Copyright IBTimes 2023. All rights reserved.