Can Tech Companies Fight ISIS? 'Manhattan-like Project' Needed To Stop Islamic State, Terrorism, Clinton Says At Democratic Presidential Debate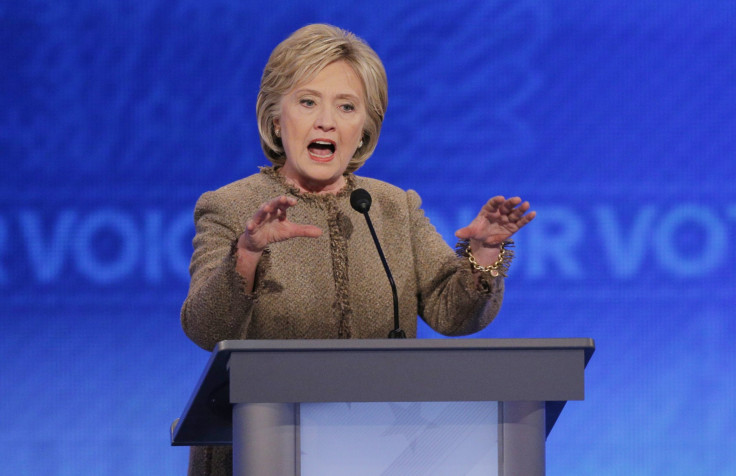 Hillary Clinton renewed calls for tech companies to work with the government to combat extremism and the Islamic State group, during the Democratic presidential debate Saturday night. The call comes as some tech companies have voiced concern over becoming government censors, and some have said allowing governments backdoor access to encrypted material would be a threat to regular Americans.
"We always have to balance liberty and security, privacy and safety, but I know law enforcement needs the tools to keep us safe," Clinton said during the debate. She added that tech companies need to work closely with the government to create "a Manhattan-like project" to combat terrorism. The Manhattan Project was the crash research program during World War II that created the atomic bomb. Clinton also noted that backdoor access could be particularly difficult, and might not be an ideal solution, but tech companies could work with government to figure out the best way to keep America safe.
Encryption has been used by terrorists to communicate without being detected by authorities, but it is also used by ordinary Americans to secure emails and bank accounts. Tech companies have opposed allowing backdoor access to encrypted material, considering such measures as unfeasible. They have said any back door for law enforcement could also be open to hackers.
Tech companies have in recent years worked with governments to combat extremism, but have not always seen eye to eye. Facebook has recently acknowledged that the political situation has changed, and has expressed a willingness to continue and boost cooperation in combating support for terrorism online.
"I just believe there's got to be a way, and I would hope, to work with our tech companies to figure that out," Clinton said.
The comments were made Saturday evening, during the third of six Democratic debates, which was hosted by ABC News and St. Anselm College in Manchester, New Hampshire. Clinton has continued to lead the race, polling most recently at 59 percent in a Monmouth University poll earlier this week. Vermont Sen. Bernie Sanders, her closest challenger, polled at 26 percent, and former Maryland Gov. Martin O'Malley polled at just 4 percent.
© Copyright IBTimes 2023. All rights reserved.