Canadian Whale-Watching Vessel Sinks; At Least 5 Dead, Search Called Off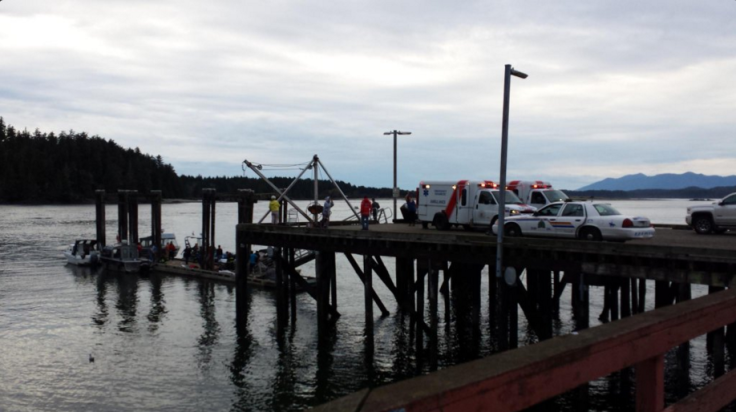 UPDATE: 2:06 a.m. EDT -- The death toll from the sinking of a whale-watching boat off British Columbia has risen to five, according to Canada's Joint Rescue Coordination Centre, cited by Global News, a local news site.
At least 18 people were being treated at the Tofino General Hospital while 21 were rescued from the boat. The search and rescue mission was called off early Monday even as one person remains missing, according to reports that added the Royal Canadian Mounted Police will now take over the case of the missing person.
Original story:
At least four people died when a whale-watching tour boat carrying 27 people sank off the coast of Tofino, British Columbia, Sunday.
"There are fatalities involved, and survivors," the Joint Rescue Co-Ordination Centre Victoria said in a recorded message Sunday. "We're also conducting a search to confirm that we've recovered everybody."
The ship, a 65-foot cruiser vessel called the Leviathan II, is owned by Jamie's Whaling Station and Adventure Centres, a whale-watching tour company.
Paramedics at the site announced at 5:10 p.m. Pacific time that three people were dead, about one hour after the boat sank. Four victims were taken to the hospital, while others were being cared for by first responders on-site. Paramedics said that the number of fatalities could still climb.
According to Global News, multiple passengers were still unaccounted for.
A witness at the site told the CBC that the tour boat sank far from the shore, so it could not be seen. Rami Touffaha, owner of Vancouver tours and charter company Burnaby Tours, saw first responders on the docks in Tofino.
"You could see the smaller boats going back and forth to try and help bring people back to shore," Touffaha said. "There were about three ambulances down at the dock.
Touffaha added that the weather was clear Sunday. "The waters weren't choppy, so I don't see what could have caused the boat to sink, but you never know in these waters, unfortunately," he said.
John Forde of the Tofino Whale Centre told Global News that a vessel like the Leviathan II would not have required passengers to wear life jackets.
"All the open vessels, people on zodiacs or an open style -- everybody is in a Mustang floater suit or a survival suit, but the larger vessels, you're just required to have life jackets on board, just like BC ferries," he said.
© Copyright IBTimes 2023. All rights reserved.