Cancel Your New Year's Eve Plans! Fauci Warns Against Celebrating, Says 'Not This Year'
As cases of the highly contagious Omicron variant continue to surge to record levels across the U.S, the nation's leading infectious disease expert, Dr. Anthony Fauci, is urging Americans to cancel their New Year's Eve plans to help prevent the continual spread of COVID-19.
The White House chief medical adviser told CNN, "When you are talking about a New Year's Eve party, where you have 30, 40, 50 people celebrating, you do not know the status of the vaccination. I would recommend strongly, stay away from that this year. There will be other years to do that, but not this year."
The Centers for Disease Control and Prevention updated its guidelines for isolating people who are infected with COVID-19. The agency now says that infected people should isolate for five days instead of the previously recommended 10, and then wear a face mask for the next five days at all times.
The loosened guidelines from the CDC are in light of Omicron's milder symptoms, which include scratchy throat, headache, fatigue, body aches and pains.
"Not all of those cases are going to be severe. In fact, many are going to be asymptomatic," CDC Director Rochelle Walensky told the Associated Press. "We want to make sure there is a mechanism by which we can safely continue to keep society functioning while following the science."
Traditional COVID symptoms can include fever or chills, cough, shortness of breath or difficulty breathing, fatigue, muscle or body aches, headache, a new loss of taste or smell, sore throat, congestion or runny nose, nausea or vomiting and diarrhea, according to the CDC.
While Fauci said that large gatherings should be canceled on New Year's Eve, he has previously said that smaller gatherings are acceptable if everyone is fully vaccinated and boosted.
As many as 176,000 new cases of COVID-19 are being reported on average each day in the U.S., CDC data indicated.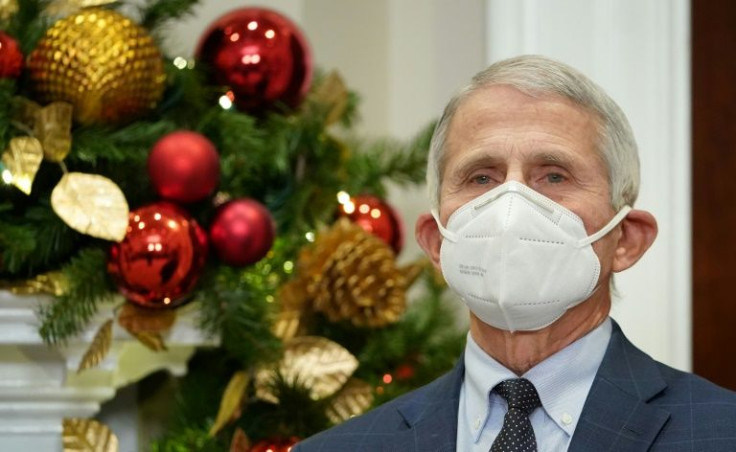 © Copyright IBTimes 2023. All rights reserved.