Vaccinated, Unvaccinated Americans At Risk Of 'Double Whammy' COVID Surge This Winter, Fauci Warns
The nation's leading infectious disease expert has a warning for both vaccinated and unvaccinated Americans as winter nears and Delta variant continues to increase the coronavirus case count, saying that a "double whammy" COVID surge could hit the U.S.
Dr. Anthony Fauci made the comments during a pretaped interview that aired at the 2021 STAT Summit on Tuesday afternoon, as reported by ABC News.
Fauci said that with the waning immunity of the COVID vaccines compounded by the highly infectious Delta variant, "even vaccinated people" could be impacted by a surge in infections this winter.
"The somewhat unnerving aspect of it is that if you keep the level of dynamics of the virus in the community at a high level -- obviously the people who are most vulnerable are the unvaccinated -- but when you have a virus as transmissible as Delta, in the context of waning immunity, that dynamic is going to negatively impact even the vaccinated people. So it's a double whammy," Fauci said during the interview.
He explained that "you're going to see breakthrough infections, even more so than we see now among the vaccinated."
The news of the possible increase in COVID infections, even among vaccinated Americans this winter, comes as the holidays are approaching and Americans are expected to gather with family and friends more so this year than last.
Fauci has given the go-ahead to gather with family this holiday season, especially if vaccinated.
However, there are still millions of people in the U.S. who are unvaccinated, which Fauci said on "The News With Shepard Smith" is fueling the increase in COVID cases.
Over 195.4 million Americans are fully vaccinated against COVID-19, accounting for 58.9% of the U.S. population, according to the Centers for Disease Control and Prevention.
The new average COVID case count has surged to almost 83,500 per day, up 14%, according to Johns Hopkins University, as reported by CNBC.
Fauci said during the STAT Summit that COVID cases need to decrease to "well below 10,000" per day to return to a sense of pre-pandemic life and 3,300 cases per day to gain control of the virus, CNBC reported.
"I think if we can get well below 10,000, I think that would be a level that I think would be acceptable to us to get back to a degree of normality. But again, I have to warn the listeners, these are not definitive statements — these are just estimates," Fauci said.
Daily COVID cases haven't reached below 10,000 since near the beginning of the pandemic in March 2020.
As of Monday, regions of the U.S. seeing the highest number of infections are the Midwest and Northeast with a 31% and 19% jump in COVID cases, respectively, compared to the South (12%) and West (8%), according to CNBC.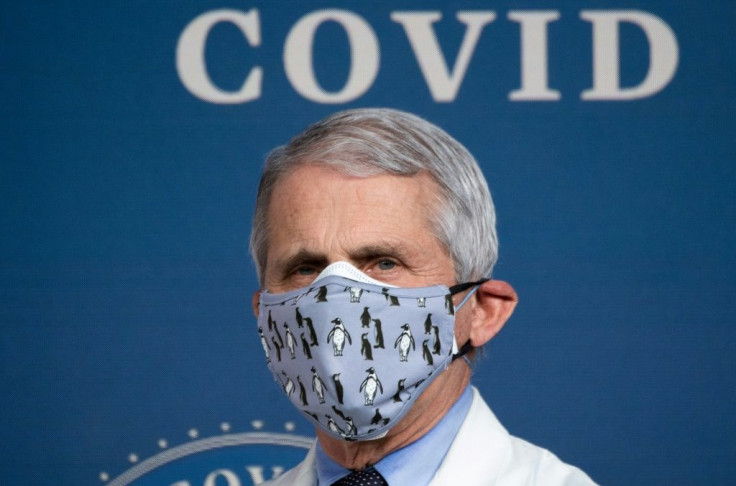 © Copyright IBTimes 2023. All rights reserved.