Fauci Pleads With Americans To Get Boosters As Omicron, Delta Spread At Record Levels
The nation's leading infectious disease expert, Dr. Anthony Fauci, had some hard words for Americans as he made it clear the only way to protect yourself against COVID-19 is to "absolutely get a booster."
Fauci made the comments on Sunday on ABC's "This Week" as he explained that the Omicron variant can evade current COVID vaccine efficacy, but boosters can increase immunity and give better protection against the newest strain of the virus.
"Preliminary data show that when you get a booster, for example, a third shot of an mRNA, it raises the level of protection high enough that it then does do well against the Omicron," Fauci told "This Week."
"Another reason to encourage people who are not vaccinated to get vaccinated, but particularly those who are vaccinated to get boosted because that diminution in protection seems to go way back up again.
"If you want to be optimally protected, you really should get a booster," he added.
Fauci continued by saying that Omicron, which early data has indicated has symptoms that are "mild," has a high degree of transmissibility.
The plea from Fauci comes as about 60 million eligible Americans are unvaccinated, and 100 million people are still eligible for booster shots, he said.
To date, 26.6% of the fully vaccinated population have received their booster doses, according to data from the Centers for Disease Control and Prevention. A total of 60.8% of the U.S. population are fully vaccinated, the agency said.
The Omicron variant, which was first detected in South Africa, has spread to at least 25 U.S. states, with about 140 cases being reported. However, the Delta variant is still the dominant variant in the nation with the majority of COVID cases making up the virus strain.
The U.S. is averaging more than 118,000 new COVID cases a day, up 42% in the last two weeks, while hospitalizations are up nearly 50%, according to ABC News.
Fauci also told "This Week" that as the U.S. heads into winter, vaccinations are key to preventing increasing cases of the virus.
"We have the tools to protect ourselves," he said.
He added that with the vaccines "we can go a long way to getting us through this cold winter season, which clearly is always associated with a spike in respiratory illnesses."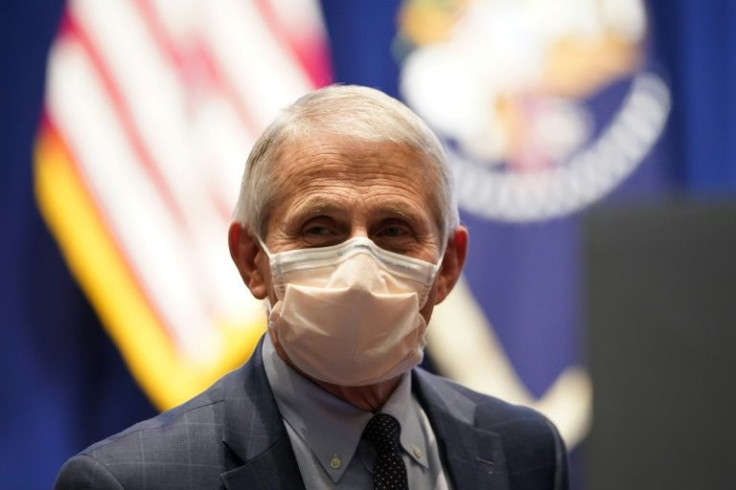 © Copyright IBTimes 2023. All rights reserved.