'Captain America' Star Chris Evans Wishes Robert Downey Jr. A Happy Birthday On Twitter
Unlike their roles as Captain America and Iron Man in "Captain America: Civil War," there is no bad blood between Chris Evans and Robert Downey Jr. In fact, the "Snowpiercer" star posted a sweet birthday greeting for his "Avengers" co-star on his social media account.
Downey turned 52 years old on April 4. Some of his pals in the industry celebrated his special day by sending him their birthday greetings, and one of these thoughtful friends was Evans. In his birthday post for Downey, Evans expressed how much he admired the "Sherlock" actor. "Happy birthday to the legendary @RobertDowneyJr. Mentor. Life-saver. Friend. Hope your birthday is like a giant kiss on the lips!" he wrote on Twitter.
Evans accompanied the sweet note with a funny clip of Captain America attempting to kiss Tony Stark, a.k.a Iron Man. Evans' post has been retweeted over 30,000 times and has received almost 63,000 likes as of writing.
READ: Chris Evans announced that his contract for "Captain America" is up after "Avengers 4"
Evans and Downey Jr.'s friendship has developed over the years after filming several movies for the "Avengers" franchise. In the third "Captain America" installment, there was a fallout between their two characters. The Avengers team was divided in two when some chose to side with Captain America, while others joined Iron Man.
But while their characters might be enemies now, Downey remains very close with his co-star. In an interview with ShortList, Downey was asked about his dynamic with Evans. "I like Evans. I think I like him more than he likes me. On the surface he acts all… whatever," he told the outlet.
Meanwhile, there are speculations that Evans' Captain America and Downey's Iron Man may see their demise in the two upcoming "Avengers" films. The "Gifted" star seemed to confirm Steve Rogers' fate when he recently told Ellen DeGeneres during an interview that his contract is up after "Avengers 4."
What do you think of Evans' sweet birthday greeting to Downey? Drop a comment below.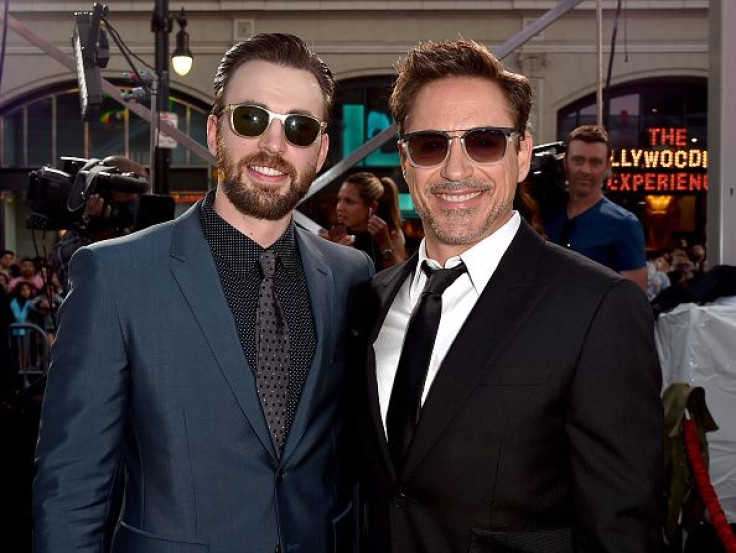 © Copyright IBTimes 2023. All rights reserved.