Carly Fiorina Endorses Ted Cruz For President, Says Texan Is Only One Capable Of Beating Donald Trump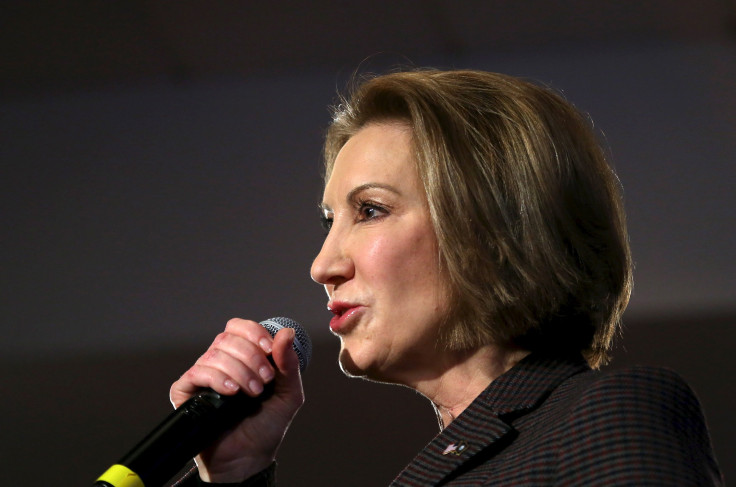 Former Hewlett-Packard CEO and also-ran 2016 presidential candidate Carly Fiorina endorsed Ted Cruz Wednesday, saying she voted for Cruz in her home-state Virginia primary and that the Texas senator is now the only candidate who can beat businessman Donald Trump for the Republican nomination.
"Here's the truth, that Donald Trump and Hillary Clinton are two sides of the same coin. They're not going to reform the system, they are the system," Fiorina said. Cruz, she said, is an outsider who is committed to American constitutional rights.
"He didn't care whether he got invited to the cocktail parties in D.C.," she said. "Ted Cruz has stood up and fought for our right to bear arms. He has fought for our religious liberties, he has fought for our sovereignty and he has won over and over and over, he has won."
Fiorina ended her bid for the presidency Feb. 10 after finishing in seventh place in the New Hampshire primary. She had some successes in the opinion polls early on last year when she attacked Trump during a GOP debate but fell in the subsequent months and did not perform well in either New Hampshire or the first state to vote, Iowa.
Fiorina wasn't critical only of Trump while running for president, however. She also attacked Cruz and told CNN in January that the Texan "says whatever he needs to say to get elected."
Fiorina says Cruz has fought for right to bear arms, religious liberty, sovereignty, and "he has won over and over." https://t.co/PkfHYiFee5

— ABC News (@ABC) March 9, 2016
"Ted Cruz is just like any other politician. He says one thing in Manhattan, he says another thing in Iowa," she said then.
Cruz has emerged as the strongest rival to Trump. He has won seven states so far and comes in second place to Trump in the delegate race, with 359 pledged delegates compared to Trump's 458. He is followed by Florida Sen. Marco Rubio, with 151 delegates, and Ohio Gov. John Kasich, with 54 delegates.
© Copyright IBTimes 2022. All rights reserved.
FOLLOW MORE IBT NEWS ON THE BELOW CHANNELS