Carly Fiorina Women Speech: Ex-HP CEO Talks Sexism and Transgender Rights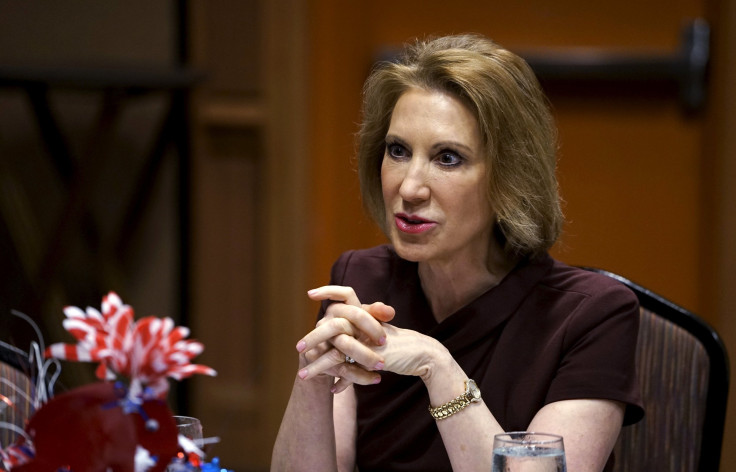 WASHINGTON -- Carly Fiorina is ready to talk about women. She is the only woman running for the Republican nomination. She was the first female CEO of a Fortune 500 company. And she isn't shying away from either of those distinctions to try to force a discussion -- at least in her party -- about the state of women.
Fiorina already has shown a willingness to use being the only female GOP contender to assume the role of chief Hillary Clinton antagonist. And in a speech Thursday night at the Competitive Enterprise Institute here, she will lay out her view of the current state of women in America and what needs to be done to help them.
"I thought it was important to have a conversation about the state of women in America," Fiorina told reporters in a press call on Thursday afternoon previewing the speech. "I think for too long actually, the left has controlled this conversation, they have defined the term 'feminism' and 'feminist' in a certain way. I think it's important that we reclaim that term and have a conversation that is both honest about how women are faring today in America and also lays out some policies that I think work to lift women and men up."
Fiorina told a story about her time at AT&T, when male colleagues scheduled a meeting at a strip club and the cab driver taking her thought she was going to perform. "A few years later, my boss introduced me to my new team as the 'token bimbo.' When I started at HP, I was also called a bimbo – and a word that also starts with B and rhymes with witch – words that definitely weren't used to describe male CEOs at other, similar companies. Just last month in fact, a reporter said he'd never talked to a presidential candidate with pink nail polish. Another reporter asked me if I thought hormones would prevent a woman from serving in the Oval Office."
Fiorina took questions from reporters -- saying anything was fair game -- before delivering the speech and fielded one about transgender people, a topic that is generating a lot of interest after Caitlyn Jenner announced she is a woman. "I think people fulfill their potential when they are able to be who they are and to be open about who they are. I made very sure as the chief executive at HP that we had a work environment that was open to transgenders," she told reporters. "Being a woman is about lot more than our bodies and what we look like and that in fact is the real point of today's speech. Regardless of how a woman looks, that a woman has a lot of potential and when that potential is used as the facts undeniably demonstrate, the world is a better place, our communities are better places, our businesses are better places"
Fiorina is still struggling to make a showing in the polls. Never having won public -- and with one unsuccessful run for the Senate in California in 2010 -- the former Hewlett Packard CEO is still a longshot to win the nomination. But she's building momentum and gaining attention as the principal opponent to Clinton, which could in turn make the rest of the GOP field pay a little more attention to her.
Clinton has already struggled with how to talk about women when running for president. In 2008, Clinton treated her womanhood like an afterthought. She wasn't interested in holding discussions about the historic nature of her campaign or potential election. She didn't talk much about women-specific issues. This time around, she's shifted and signaled a willingness to talk about being a woman and the issues affecting women around the country.
Fiorina is comfortable acting as Clinton's foil. And her speech at times cited the same kind of statistics that Clinton does. "Fun fact: There are more CEOs named John than there are women. Among those same companies, there are only 19 women for every 100 board members," Fiorina will say in her speech, according to prepared remarks released by her campaign. "Eighty-four percent of women strongly agree that women can lead just as effectively as men. Only 43 percent of men agreed with the same statement."
But when detailing what to do about it, Fiorinia offered a very different policy prescription. Her proposals to help women came from the Republican playbook of policy recommendations and she argued how they would specifically help women.
First, she advocated improving the education system, saying that would help both men and women. She called for expanded school choice. "It is especially critical for low-income women and families that we fix our broken education system," Fiorina will say. "Every parent deserves a choice as to how to best educate their children so that every child has a chance to fulfill their potential."
She also called for reducing the number of out-of-wedlock births, arguing that single mothers are more economically disadvantaged than married mothers. To achieve that, Fiorina said birth control should be available over the counter without a prescription. "It would not be free, there is nothing that is actually free," Fiorina told reporters Thursday before her speech when asked about Democratic criticism. The Democrats have argued that Republicans only want to make it available over the counter because currently with a prescription most women can obtain it for free.
Fiorina called for rolling back provisions in the Dodd-Frank Wall Street reform law, which she said put small community banks out of business. Without those banks, Fiorina argues, women entrepreneurs and small business owners don't have access to loans. Finally, she advocated for a review of the entitlement programs to ensure that the programs "encourage women — and men — to strive instead of settle, because there is dignity in all work." "We must tackle the webs of dependence that are trapping women today," she will say.
Fiorina wasn't ready to embrace the Democratic push for a Paycheck Fairness Act -- which would include several provisions including requiring employers to report wages by gender to the federal government, ending prohibitions on employees discussing their wages and funding lawsuits if a woman discovers she is being paid less than a man.
Instead, she criticized Democrats for pushing for the law without first applying those rules to the federal government. "Why won't they support any of those same things in the federal government or in unions? I find it really astonishing how often Democrats are willing to say as a matter of policy, 'Do as I say, not as I do," Fiorina told reporters. "I would begin to reform the civil services so that it becomes a meritocracy because seniority systems disadvantage women in particular."
© Copyright IBTimes 2023. All rights reserved.