Carly Rae Jepsen and Owl City Sued For Copyright Infringement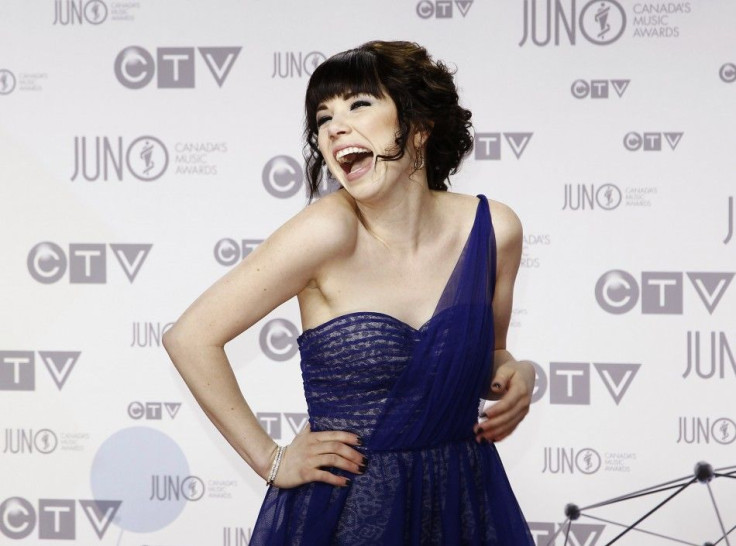 Carly Rae Jepsen needs to call a lawyer, maybe, after being sued for possible copyright infringement. Jepsen and Owl City's Adam Young were named in a lawsuit for the song "Good Time."
According to The Hollywood Reporter, Allyson Nichole Burnett, a singer-songwriter from Huntsville, Ala., is suing Carly Rae Jepsen and Owl City, along with Universal Music Group, Songs Music Publishing and Schoolboy Records, ACAP and SESAC. Burnett claims "Good Times" features many similarities to her 2010 song "AH, It's a Love Song." Matt Thiessen and Brian Lee, the songwriters of "Good Times," were also mentioned in the suit.
Copyright infringement cases are not uncommon. Other acts that have been sued for copyright infringement include Coldplay, George Harrison and Vanilla Ice. Lil Wayne is currently suing Quincy Jones III for copyright infringement as well.
The lawsuit filed by Burnett against Jepsen claims not only that the songs "sound similar," but also focuses on the song structure as well as the "vocal motif" that "Good Times" allegedly stole from "AH, It's a Love Song." The lawsuit claims that, in the beginning of Burnett's song, she creates an original motif that is "has a catchy pop vibe that both draws people in and sticks in people's heads."
The hook of Jepsen's song is another source of contention, according to the lawsuit. In "AH, It's a Love Song," it's four measures that are repeated to create an eight- measure section. The hook, in its entirety, is repeated twice in the song although the pitch sequence is repeated throughout the song. The pitch sequence, 5-3-5-3-2, in Burnett's song along with the original motif were copied in "Good Times," the lawsuit alleges.
Along with copying the original motif and pitch sequence, Neville Johnson, Burnett's lawyer, argues that "Good Time" also copies the melodic contour, rhythmic construction, timbre and rhythmic context of "AH, It's a Love Song." Burnett has extensive history representing artists like the estate of John Lennon, as well as Yoko Ono and Nancy Sinatra.
Burnett's song is by no means obscure and has been available for sale digitally and has also been featured in MTV's "The Hills" and "Friendzone."
While Burnett is suing for copyright infringement, she also notes that, since "Good Time" was a Top 10 hit, many people are accusing her of stealing Jepsen's and Owl City's song.
Burnett is seeking damages, part of the profits from "Good Times" and a "constructive trust over all profits and royalties collected and held by the Royalty Distributors" from ASCAP and SESAC, which collect licensing fees for songs and then pay the artists royalties for the song's use.
Judge for yourself below.
Burnett's "AH, It's a Love Song"
Carly Rae Jepsen and Owl City's "Good Times"
© Copyright IBTimes 2023. All rights reserved.