Carmelo Anthony Posts Sexy Photo Of Estranged Wife La La Anthony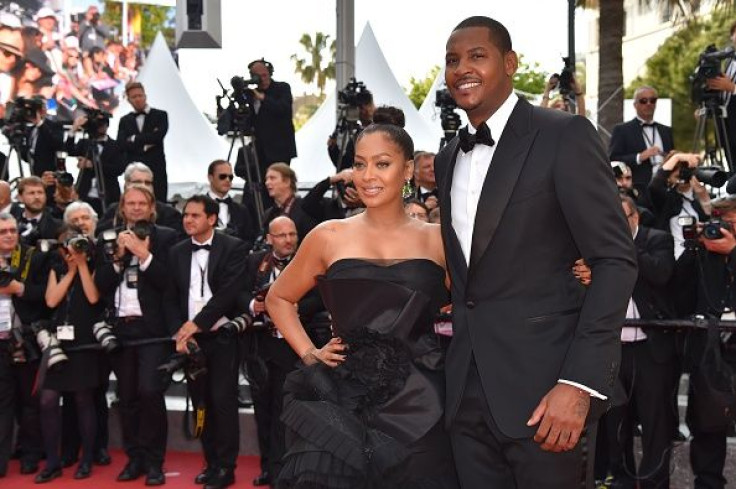 Carmelo Anthony and his wife La La Anthony may be separated, but that did not stop the basketball player from showing his admiration for the "Power" star.
On his Twitter, Carmelo shared a sexy photo of La La, who stuns in a sparkling silver dress with her hair in a high ponytail. He simply captioned the pic posted on Sunday with three emoji: eyes, a heart and a globe.
READ: 'Power' Star La La Anthony Says Carmelo Anthony Knew About Her Racy Sex Scene; Exes Remain Friends
Carmelo's tweet comes after his estranged wife opened up about their marriage and split during an interview with Wendy Williams last month. La La admitted that she has no plans to divorce the basketball superstar at the moment. "You know marriages are tough, and you know that," she said on "The Wendy Williams Show" of her relationship with her husband of seven years . "We all know that. It's filled with ups and downs. We are just going through a time right now."
The actress, who announced her separation from the athlete in April, added that she and Carmelo still maintain an amicable relationship and are focused on co-parenting their 10-year-old, Kiyan. "Him and I are the best of friends and our number one commitment is to our son, " she explained.
She also praised Carmelo as a father and said he is the best one she could ask for for her child. "We have to set an example for Kiyan and that's what's most important to me," she continued . "That's my son's father and he is an amazing dad. I could not ask for a better dad."
Earlier this month, La La also talked about their breakup, which came amid rumors that Carmelo cheated on her, during an interview with Power 105.1 FM's "The Breakfast Club." "I feel like I've been tested and I'm making it through," she said of their split. "I've been dealt a crazy hand recently, but I'm making it through. Life goes on. Things happen. It's not what happens to you—it's how you react to it. You got to keep pushing on. "
When asked if she and her ex are seeing a marriage counselor, the actress did not confirm nor deny this. Instead, La La said, "Listen, we ' re good. We're figuring it out. Right now, Melo is figuring out the Knicks and basketball and where the next couple months of his life is going to be, and I want to support him through that. I want him to be happy and New York has not panned out to what he wanted it to be."
© Copyright IBTimes 2023. All rights reserved.