Carrie Underwood, Brad Paisley Joke About Blake Shelton, Miranda Lambert Divorce During 2015 CMA Awards Opening Skit [VIDEO]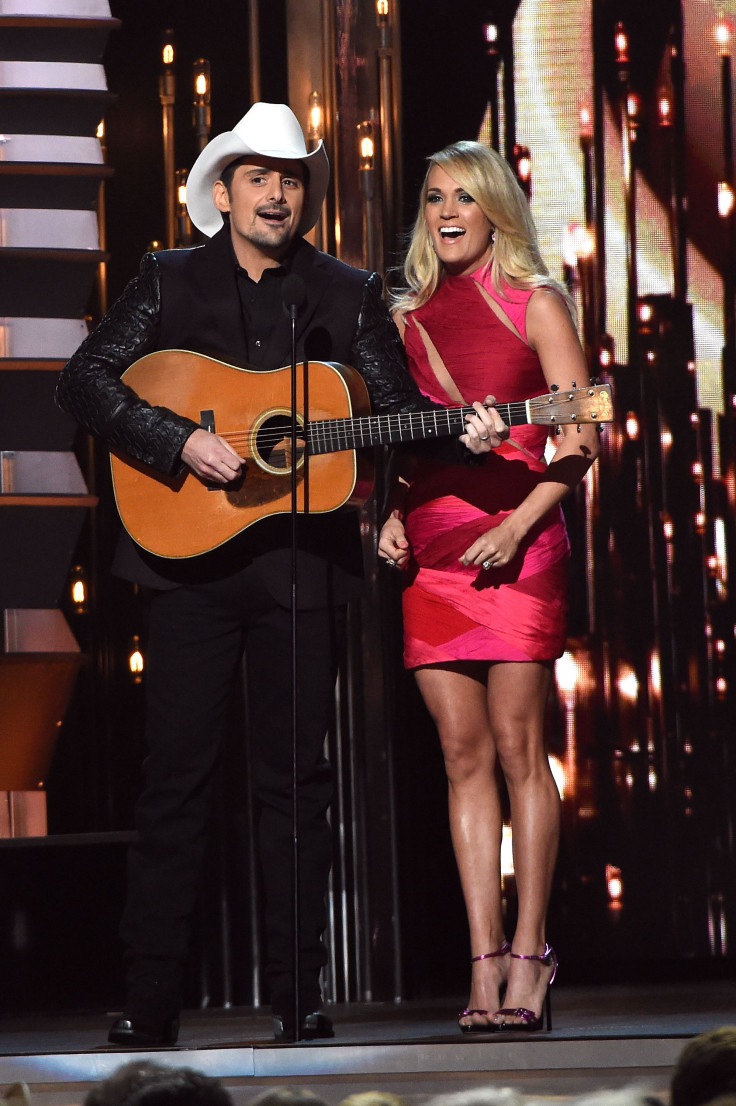 Things are getting pretty "cray cray" at the 2015 CMA Awards presentation in Nashville, Tennessee, Wednesday night. The show's co-hosts, Brad Paisley and Carrie Underwood opened the 49th annual ceremony by discussing the giant pink elephant in the room: the split between Miranda Lambert and Blake Shelton. But, of course, the clever twosome did it tastefully -- and in song.
Their parody musical number involved mentioning all the crazy things that have happened throughout the year, such as the creation of the Nae Nae dance craze, man buns and McDonald's all-day breakfast, as well as the breakup of everybody's favorite couple.
"You know what's cray cray?" Paisley asked Underwood. "How many couples that broke up."
Underwood agreed before mentioning the breakup that "rocked the world" -- and was splashed across the front cover of every tabloid magazine.
"Look! They're not even sitting together," Paisley pointed out as the camera cut to the crowd.
But instead of showing Lambert and Shelton sitting rows apart, the camera zoomed in on "The Muppets" stars Kermit and Miss Piggy looking a bit, well, awkward. (The plush couple announced their own breakup in August.)
"Is it me or does he not look good?" Paisley said, duly noting Kermit's green complexion before getting in one last relationship jab: "On a completely different topic ... Howdy, Blake!"
And the crowd only roared louder when Paisley mentioned Shelton's duet with "Ashley Madison" (instead of Ashley Monroe). The line led to Paisley and Underwood breaking out into song once again, as they mocked the cheating website and Josh Duggar's scandalous involvement with it.
Viewers can catch the 2015 CMA Awards presentation live stream here.
© Copyright IBTimes 2023. All rights reserved.