Carrie Underwood On Spending Time With Husband Mike Fisher Amid Lockdown: 'There Was A Lot Of Heaviness'
KEY POINTS
Carrie Underwood opened up about her lockdown experience with husband Mike Fisher and their kids
The singer admitted there was "a lot of heaviness," but there were also silver linings
She said her husband told her that they did a good job at being together while in quarantine
Carrie Underwood has opened up about what it was like quarantining with her husband Mike Fisher and their two kids amid the COVID-19 pandemic. The singer admitted that there was "a lot of heaviness," but many positive things also came out of the time they spent together.
The "American Idol" Season 4 winner, 38, did an interview with "CBS This Morning" ahead of her virtual concert on Easter Sunday and got candid about her time with her family during the lockdowns.
"There was just a lot of heaviness of the past year," Underwood said.
"But there were also a lot of silver linings, and I got to sit in one place and watch my boys grow up. Just getting to wake up every morning and see them, and put them to bed every night, my husband was like, 'How many dinners have we sat at this table?' And I'm like, 'Well, there's 52 weeks in a year, seven days a week.' I was like, 'You can do the math,'" she said.
The seven-time Grammy winner then made it clear that her relationship with the 40-year-old former ice hockey player has never been better even though they literally had to be together all the time while in quarantine.
"We've been together, and some couples kinda get stronger, and you see some go the other way. And so, like, we were really good at being together all day, every day," she said, recounting what her husband told her during the lockdown after realizing that he really loved her after spending so much time together.
Underwood and Fisher tied the knot in July 2010, two years after they were set up by the singer's bassist, Mark Childers, on a blind date. They welcomed their first son Isaiah in February 2015, and their second son Jacob in January 2019, as per Insider.
On Easter Sunday, the "Jesus, Take the Wheel" songstress performed her virtual concert from Nashville's Ryman Auditorium. She performed songs from her gospel album "My Savior" to her fans, who streamed the event via Facebook.
In an interview with People, Underwood gushed over her album and the opportunity to perform the tracks on it amid the pandemic for the benefit of the Save the Children Fund.
"This is an album I have always wanted to record and I'm thrilled to be able to bring these uplifting, inspirational songs to life in this special way. It means so much to be able to bring this event to people in their homes on a day that holds so much meaning for us spiritually and to be able to raise much-needed funds and awareness for the incredible work of Save the Children as we celebrate the importance of family," she told the media outlet.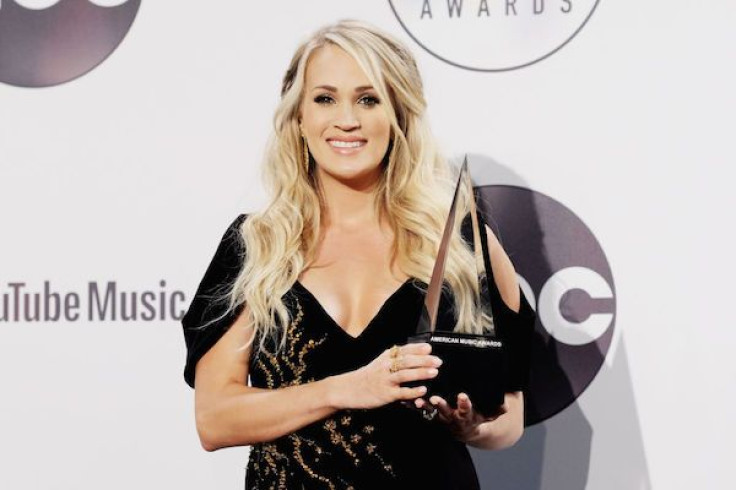 © Copyright IBTimes 2023. All rights reserved.