Carrie Underwood Voices Support Of Gay Marriage, ?We Should All Have The Right To Love?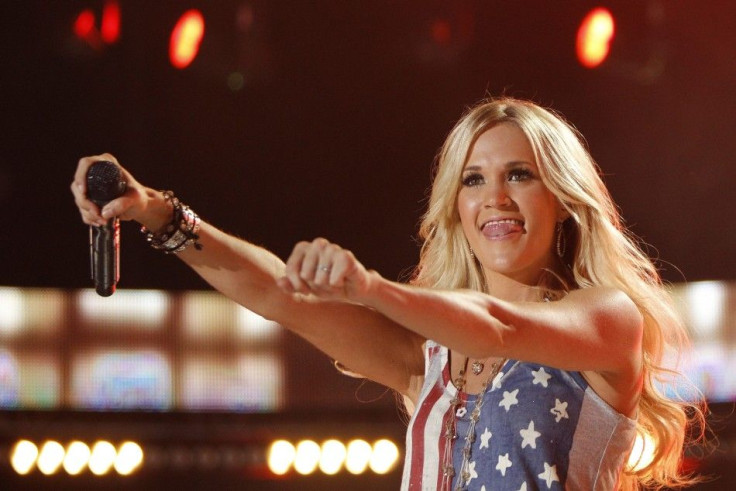 Country singer and American Idol alum Carrie Underwood is a happily married 29-year-old who could not imagine not being able to wed the one she loves most. In a recent interview, Underwood came out in support of gay marriage saying, We should all have the right to love.
Carrie Underwood, whose current album, Blown Away, is No. 1 on the Billboard Country albums chart, paralleled her story to the stories of millions of gay couples around the world still unable to legally marry.
As a married person myself, I don't know what it's like to be told I can't marry somebody I love, and want to marry, she tells the (U.K.) Independent. I can't imagine how that must feel. I definitely think we should all have the right to love, and love publicly, the people that we want to love.
Underwood married Canadian hockey player Mike Fisher in July 2010 in a ceremony in Georgia, a state that bans same-sex marriage.
Underwood was raised a Baptist and, with songs like Jesus Take the Wheel, has a fan base made of many evangelical Christians. However, the country crooner says that her liberal view towards marriage comes because of her Christian values, rather than in spite of them.
Our church is gay friendly, she said. Above all, God wanted us to love others. It's not about setting rules, or [saying] 'everyone has to be like me'. No. We're all different. That's what makes us special. We have to love each other and get on with each other. It's not up to me to judge anybody.
She condemns people who use the Bible for hate, adding, That's not how I would want myself as a Christian to be represented.
Carrie Underwood's gay marriage comments did not come as quite a surprise.
If you look at younger evangelicals, they are hugely out of step with their parents on this issue, a spokesman for the pressure group Equality California told The Independent. They remain committed to their faith, but don't see gay rights being in conflict with Christian values. So while her comments are great news, they aren't necessarily a huge surprise.
Conservative groups have come out in support of Underwood's stance on gay marriage.
Good for her, Jimmy LaSalvia, co-founder and executive director of GOProud, an organization that bills itself as the voice of gay conservatives and their straight allies, told the Los Angeles Times.
You know, Carrie Underwood isn't any different from anyone else in America, LaSalvia said Monday in an e-mail. The more Americans think about how issues affect their gay friends and family the more they come to realize that supporting same-sex civil marriage is the right thing to do. More and more people are coming to that conclusion - and that includes conservative Christians.
Underwood's comments come on the heels of President Barack Obama voicing his support for same-sex unions in America.
© Copyright IBTimes 2023. All rights reserved.