Casey Anthony Update: Nancy Grace Calls Tot Mom's Claims 'BS' On 'Steve Harvey' Show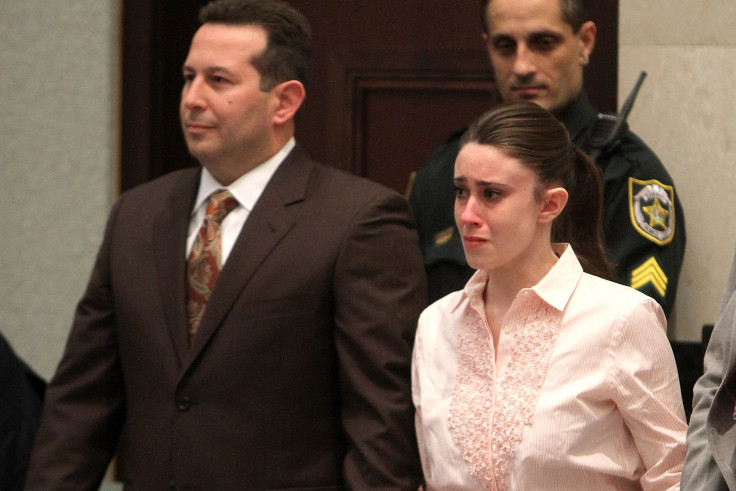 Former TV show host Nancy Grace was enraged last month when Casey Anthony broke her years-long silence and gave an interview to the Associated Press in which she again insisted she didn't kill her toddler, Caylee, in Florida in 2008. And even though weeks have passed, Grace is still simmering in a "Steve Harvey" episode set to air this Friday, according to the Orlando Sentinel.
Grace, on Harvey's show to promote her new Hallmark movie, specifically addressed Anthony's remarks that she's "OK" with herself and is able to "sleep pretty good at night" about six years after a jury found her not guilty of murdering her daughter.
"Of course, she doesn't care. She doesn't want to know what the public thinks about her," Grace said. "But when she said 'I sleep pretty good at night,' I have never met in all my years ... one crime victim's family of a murdered or missing child that 'sleeps pretty good at night.' That is B.S."
Read: Casey Anthony Lawyer To Defend Ronnie Hyde In Decades-Old Teen Murder Case In Florida​
Grace, whose fiancé was killed in the '70s, has long been an outspoken critic of Anthony. The lawyer-turned-journalist exhaustively covered Caylee's disappearance and Anthony's trial on her show "Nancy Grace," nicknaming Anthony "Tot Mom" and dissecting her lifestyle habits and case. When Anthony spoke out earlier this year, Grace released a statement condemning the interview.
"No parent in their right mind could ever get over the death of a child," Grace said at the time.
Read: Caylee's Death Possibly Accidental, But The Florida Mom Is 'The Only Person That Really Knows,' Judge Says
In other Anthony news, her attorney Jose Baez was set to take part in the new Fox reality show "You the Jury." Baez will join high-profile lawyers like Benjamin Crump, who represented Trayvon Martin's family, as they argue cases before an audience — and then let the spectators decide, People reported.
The show, which was scheduled to debut Friday, will be hosted by Jeanine Pirro.
"What you've got are hot-button issues that America is talking about at the water cooler, at lunch or over the fence," Pirro told People. "I'm fascinated with the idea of America looking at these issues and rendering their own opinion about what is important."
© Copyright IBTimes 2023. All rights reserved.