Castaic Route Fire Burns More Than 5,200 Acres; Blaze Contained 27%
KEY POINTS
Seven firefighters were injured in the fire
"Very challenging" times ahead warned Angeles National Fire Chief, Robert Garcia
One home along the Ridge Route was destroyed
A brush fire, also called Route Fire, which started burning shortly after Wednesday noon in Southern California's Castaic, destructed 5,208 acres by Thursday night.
The smoke emanating from the flames was captured in a dramatic photo taken thousands of miles above the ground.
A passenger aboard a commercial flight snapped a photograph showing dramatic smoke clouds rising from the fire near Castaic Lake, and spreading in all directions, with the Pacific Ocean, Santa Cruz Island, and Santa Rosa Island in the distance, reported KTLA.
The fire was contained 27% by Thursday night.
Several videos on social media offered a horrific view of the raging flames and the accompanying thick black smoke.
"#firefighters battle the #Ridgefire along the #I-5 freeway in #Castaic, CA Wednesday. The fire has scorched more than 165 acres and closed both north and southbound lanes of the #GoldenState Freeway through Castiac," photojournalist David Crane shared.
"My hometown is burning, I am seeing families/friends I grew up with evacuating. This is so f---ing heartbreaking. Please keep the people of Castaic in your prayers as well as the teams trying to fight this fire and save lives," tweeted another.
"The Route Fire was seen all the way across the SFV in Calabasas yesterday. #RouteFire #timelapse," a third shared.
The raging fire caused a shut down in a section of Interstate 5 in both directions near Castaic, 40 miles northwest of Los Angeles.
Sharing traffic updates from Thursday afternoon, Crane wrote, "Northbound I-5 freeway traffic remains snarled through #Castaic CA as fire crews continue to work the #RouteFire Thursday. The 5,000+ acre fire is now 12% contained but temps throughout the area remain extreme. Northbound travelers from #LA are advised to use alternates."
As per new updates, "I-5 between Lake Hughes Road & Templin Highway: on northbound I-5 two lanes are open and two lanes are closed. On southbound I-5, three lanes are open and one lane is closed."
Evacuations were ordered for the Paradise Ranch Mobile Estates in the Gorman area, Ridge Route Road, and Northlake Hills Elementary School staff and students were asked to shelter in place until they were evacuated by Santa Clarita Valley station deputies late Wednesday afternoon, reported CBS News.
Seven firefighters were rushed to the hospital with heat-related injuries Wednesday. All of them were released, and were said to be "doing well."
One home along the Ridge Route was destroyed, and another building suffered damages, according to Angeles National Fire Chief Robert Garcia, but no other injuries were reported.
"The fire behavior and what you saw yesterday should be a wake-up call to us all about the potential that we're in and we're entering into over the next few days in terms of the fire conditions. Very rapid fire growth and very, very explosive fire behavior," he told reporters Thursday morning, adding the coming few days are going to be "very challenging."
A statewide Flex Alert was issued as temperatures soared to triple digits, and were expected to be in the same range through the Labor Day weekend. California residents were asked to cut down on power usage, and the alert concluded late Thursday night.
"Thank you California, we can always count on you! Your conservation efforts helped keep the power grid stable. #FlexAlert has concluded," California ISO tweeted.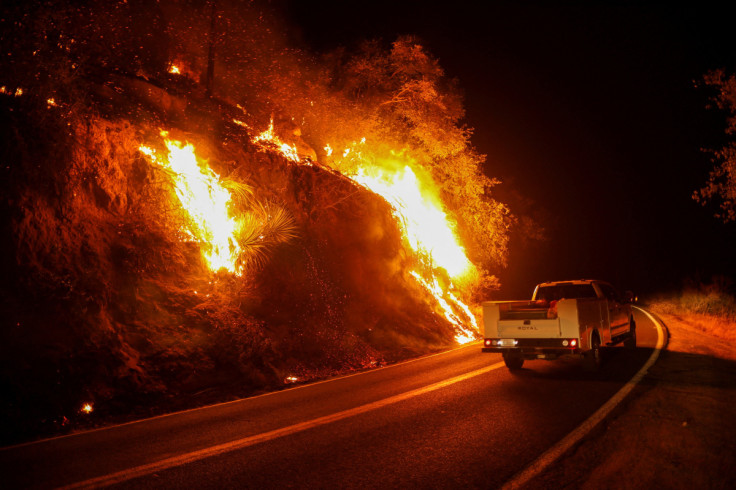 © Copyright IBTimes 2022. All rights reserved.
FOLLOW MORE IBT NEWS ON THE BELOW CHANNELS