Caught On Camera: Asian Man Viciously Punched, Knocked Out In Brooklyn Subway Train
KEY POINTS
A bystander recorded a video of the incident
The assailant didn't stop when bystanders asked him to
The victim allegedly called the assailant the N word
An Asian man knocked out cold by a stranger while riding on a subway train in Brooklyn was the latest victim of anti-Asian hate. The New York Police Department (NYPD)'s Hate Crime Task Force has been investigating the incident, based on a video shared Monday.
The incident, which was recorded by a bystander on video, took place on a J train headed for Manhattan by the Kosciuszko Street station on the border of Bedford-Stuyvesant and Bushwick.
The time of when the incident happened isn't clear as of yet.
From the video, it appears that the victim of the attack was an Asian man who seemed to be less than 30 years old. He was able to resist the rain of punches from the assailant, but he wasn't able to hold his ground for long. The attacker overwhelmed the man by punching the man repeatedly before he decided enough was enough and held the man in a chokehold.
After being held in the assailant's chokehold for long enough, the Asian man lost his consciousness. The man losing consciousness leads a bystander to shout out that the man was "sleeping."
The assault didn't have anyone trying to stop it, but there were multiple people yelling at the attacker to stop what he was doing. Towards the end of the video, someone can be heard claiming that the Asian man called the assailant the N word.
The NYPD is in the process of finding out who the assailant is and has asked for information from the public.
New York City has had dozens of anti-Asian hate crimes occur this year so far.
According to a report from Stop APPI Hate, a non-profit organization that records how many incidents of discrimination occur in the US, there have been almost 4,000 hate crime occurences against Asian Americans from February 2020 to March 2021.
However, only incidents that get reported are tracked by the non-profit. There have been many incidents where the hate crime goes unreported.
There are a few campaigns that are being run to raise people's awareness of the increase in crimes against Asian Americans, which has many calling for the discrimination to be put to an end.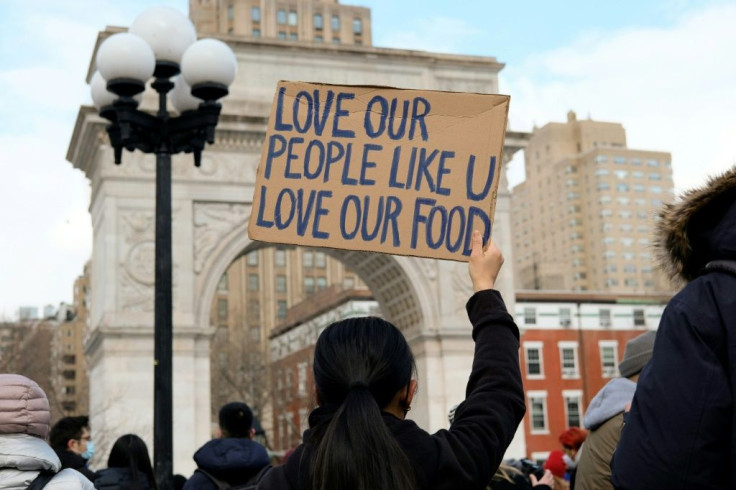 © Copyright IBTimes 2023. All rights reserved.