Central Park Five Controversy: NYC Teacher Jenna Lee-Walker Fired Because School Feared Black Students?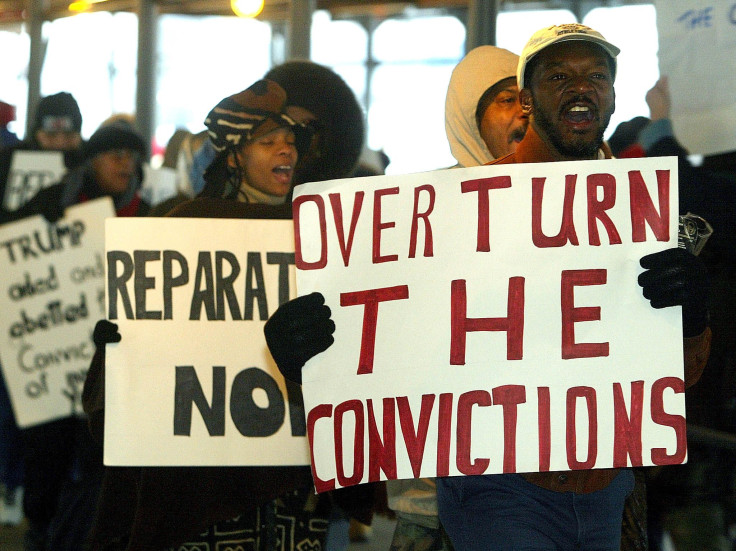 A New York City English teacher filed a lawsuit this week alleging she was fired for lecturing students on the Central Park Five case because of its potential to "rile up" black students, the NY Daily News reported exclusively Friday. Jenna Lee-Walker sued the New York City Department of Education as well as Superintendent Fred Walsh, Principal Stephen Noonan, and Assistant Principals Christopher Yarmy and Benny Ureana Wednesday for violating her First Amendment rights and not giving her enough notice of her termination.
Lee-Walker, who was born in South Korea, has alleged she was fired from the High School for Arts, Imagination and Inquiry on May 12, 2015 after about two years of fighting with administration. The disagreements began over a lesson that gave a "a critical look at the 'Central Park Five' case that highlighted an American societal tendency to rush to adverse legal conclusions against black males," according to the lawsuit.
The controversial Central Park Five case revolves around the conviction of five black and Latino teenagers for raping a 28-year-old white woman, Trisha Meili, in New York City in 1989. Meili, assaulted and beaten, had no memory of the attack, but the five boys — Antron McCray, Kevin Richardson, Yusef Salaam, Raymond Santana and Korey Wise — confessed to the attack "after hours of psychological pressure and aggressive interrogation at the hands of seasoned homicide detectives," according to PBS. They later retracted their statements, and DNA evidence never linked them to the crime.
The Central Park Five's convictions were vacated in 2002 after an unrelated serial rapist admitted to assaulting Meili. The men received $40 million from the city in 2014, but the case remains well-known as a miscarriage of justice connected to inflamed racial tensions, the New York Times reported.
After Lee-Walker taught her ninth-grade English class about the case during a teacher observation in 2013, the administrators allegedly reprimanded her. She claims Yarmy said she needed to be more balanced in her lessons, which also included curriculum about Miranda rights, so as not to "rile up" African-American students or cause "little riots."
Lee-Walker said she deferred to Yarmy's suggestions but "argued that students in general, and black students in particular, should be riled up, and that a good, engaged education would necessarily incite and provoke students to re-examine old assumptions and to challenge orthodoxy, even whilst presenting a balanced view of the facts," according to the lawsuit.
Lee-Walker and Yarmy met with the other administrators about the issue, and over the next two years, she received declining evaluation scores from them. Lee-Walker was eventually written up for missing work and not turning in reports, which the lawsuit called "pretextual," and let go. She said she was given nine days' notice as opposed to the 60 required under state law.
Her lawsuit requests an unspecified amount of damages.
"I felt abandoned and mistreated," Lee-Walker told the Daily News this week. She added that "I thought that this material was not only engaging but important."
© Copyright IBTimes 2023. All rights reserved.