The Chanel 'Hula Hoop' Bag: Ludicrous Or Inspirational?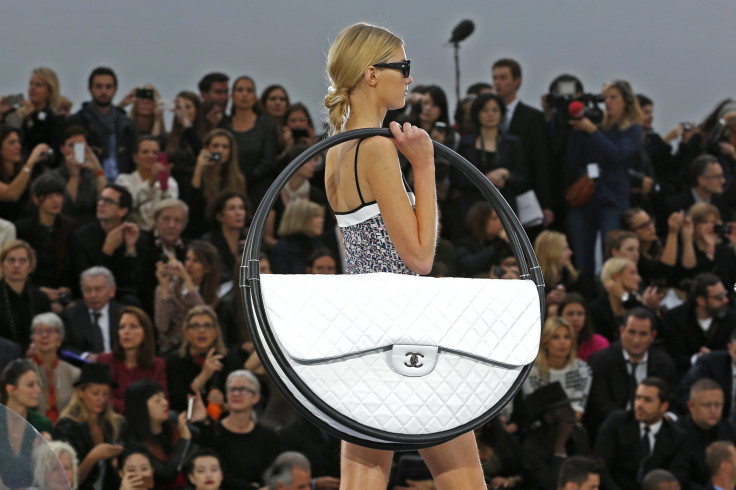 "How can Chanel do this to me?" one Tweeter asked in despair. "Well, I'm certainly not going to be seen in that," affirmed another. And the worst: "Karl Lagerfeld is officially nuts."
Following the unveiling of the giant purse wrapped in the iconic quilt at the Spring 2013 Chanel show at Paris Fashion Week on Tuesday, these are just a few remarks the fashion-conscious said to express their sentiments regarding creative director Karl Lagerfeld's latest.
It seems everyone can't stop talking about the so-called "hula hoop" bag, as it has been dubbed; even a colleague who, despite being Milanese, described himself as "a guy who couldn't tell Galliano from a piece of cheese." (Though one might suggest that since he knows Galliano's name he might really be able to distinguish between the two.)
Let's set the record straight: Like many have noted, the purse is outrageous, impractical and, most of all, expensive. And no, you cannot actually wear it, despite Lagerfeld's little joke that it's "for the beach."
But the inability to actually wear it is the point. You're not supposed to.
So why make something unwearable in the first place?
"The answer lies in the phrase 'selling a dream,'" according to Fashion-Era. "[Designers] sell a dream of the intangible. A dream of chic cachet, of beauty, desirability and exclusiveness that the ordinary person can buy into."
Couture fashion is akin to the high art of dressmaking -- garments that are typically custom-fitted with extreme attention to detail. Couture fashion can also match in rank to some of the world's most famous and ostentatious paintings, though most people don't seem to make that connection. Think Jackson Pollock, whose drip paintings were thought ridiculous by some critics and outsiders for their nature and expensive price tag. Nonetheless, they managed to influence the abstract expressionist movement.
Sartorial creations can, too, be art. Fashion, like art, utilizing an innovative design concept, like the hula hoop bag -- or pretty much anything else that has ever graced a runway in couture -- is meant to influence.
Lagerfeld's concept was exaggeration, which is certainly an extension of Fall 2012's brazen oversize silhouettes as a segue into Spring's more relaxed take on these shapes.
"It's all about volume and lightness, which normally don't go together," Lagerfeld told the AFP backstage about the purse. With the bag's oversized volume juxtaposed with light handles seemingly made of hula hoop tubing, Lagerfeld achieved just that balance of opposites, which was further displayed in the enormous pearl (you know, that featherweight timeless gemstone) bracelets.
Even more concrete, in terms of pure industry business rationale, is that the motif of exaggeration in the Chanel show will likely surface in mass market replicas to come.
"Even though the vast majority of your customers don't wear couture clothing," wrote Diana Vollmer of American Dry Cleaner, "their wardrobes eventually reflect the influence of the leading designers."
Vollmer pointed out the Missoni for Target collection as an example; the high-end design collaboration crashed the mass discounter's entire website in September 2011 when demand was too high.
Alexander McQueen is also further evidence for the case. Known for putting on some of fashion's most outrageous shows in history, McQueen's work more resembled a theatrical production than a runway event. He has been credited directly with influencing the high street from his high fashion. The BBC documented his influence in a 2010 article following his death, proffering his Spring 2003 skull scarf as a once-ridiculous, now-trendy norm. It was thanks to the likes of Madonna and Johnny Depp that it ever began to appear "normal."
One thing is certain: the spherical shape of the hula hoop will inspire mass market lines like H&M or others in some form. Or, dare I say, the much smaller version Lagerfeld included in the collection could even go on display at Bergdorf's? Perhaps, then, Phoebe Philo's inclusion of fur on shoes for Celine's Spring 2013 collection will pave the way for fluffy footwear, which some, like The Telegraph, dubbed "Furkenstocks?"
This all just goes to show -- on a more romantically hopeful note for fashion worshippers -- that couture fashion isn't going anywhere, despite claims to the contrary.
"Couture is back. And just think, a few seasons ago loyalists were bemoaning its imminent demise," Fashion News and Features Director Anamaria Wilson wrote for the October issue of Harper's Bazaar. "If anything, the haute couture collections proved to be the highlight of the fashion calendar."
Flowers are also proof, Wilson wrote, referring to Raf Simons' debut with Dior, where the former Jil Sander designer displayed a giant "phantasmagoria" of florae.
Not only is couture back, everyone is talking about it. A so-called "goofy-looking" Chanel bag, that could also almost double as a hula hoop, has opened discourse into what is art is going on -- and inspiring. And that is exactly what it is meant to do: Inspire.
FOR FREE to continue reading
✔️ Unlock the full content of International Business Times UK for free
offer available for a limited time only
✔️ Easily manage your Newsletters subscriptions and save your favourite articles
✔️ No payment method required
Already have an account?
Log in
© Copyright IBTimes 2023. All rights reserved.