Charles Manson Parole 2012: At 77, Notorious Criminal Still Has Family Of Supporters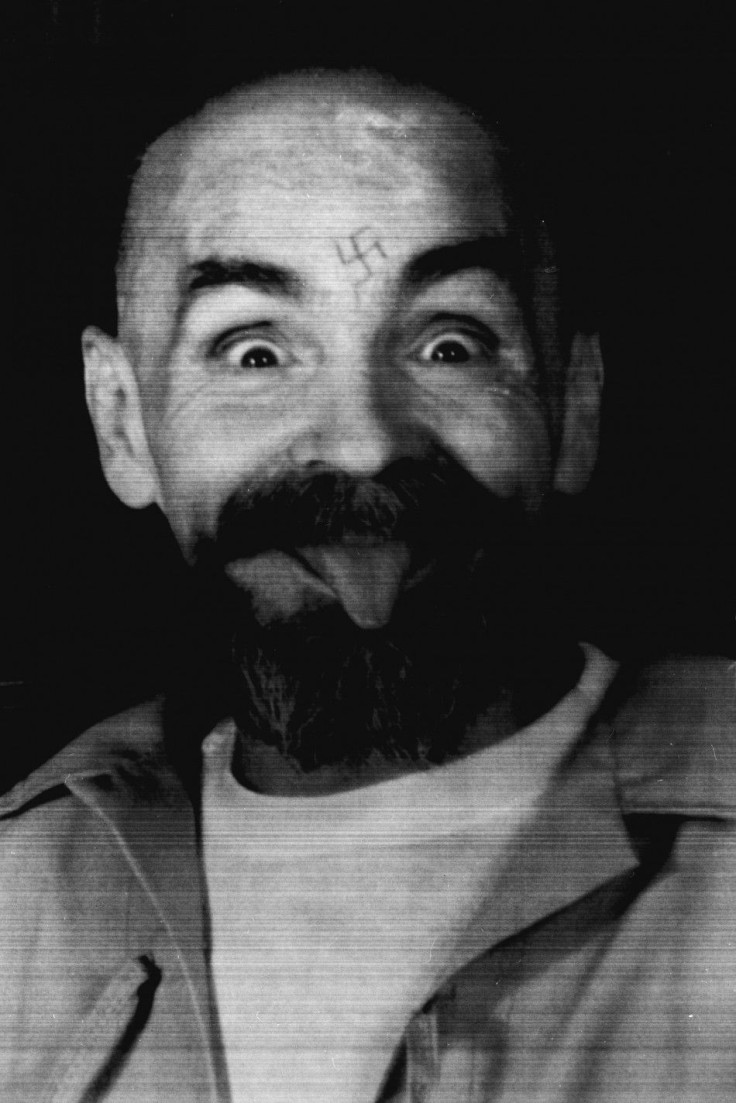 Charles Manson is up for parole again, the 12th time since his 1970 conviction. If history is a guide, California's parole board will have little difficulty denying his request yet again at a hearing Wednesday.
Manson was convicted on multiple counts of first-degree murder and conspiracy for the bizarre 1969 slayings of seven rich or famous Los Angeles residents, including actress Sharon Tate, who was married to director Roman Polanksi and eight months' pregnant.
In a gruesome killing spree the night of Aug. 8, Manson directed a group of four followers -- including three girls barely in their 20s -- to break into the home Polanski and Tate were renting in Benedict Canyon near Beverly Hills. Amid a desperate struggle, Tate and three of her friends -- celebrity hair stylist Jay Sebring, Polish actor Voytek Frykowski and coffee heiress Abigail Folger -- were stabbed repeatedly while Steven Parent, a friend of the home's caretaker, was killed by close-range gunfire. Frykowski and Sebring were also shot. Before leaving the scene, 21-year-old Susan Atkins -- who would later testify that she coldly rebuffed Tate's plea for mercy -- wrote PIG on the door in the doomed actress's blood.
The next night, Manson rounded up the same four, plus two others, and drove with them to the home of Los Angeles supermarket magnate Leno LaBianca and his wife, Rosemary. Entering the couple's mansion under the guise of a robbery, Manson promised LaBianca that no one would be hurt while a Manson follower tied the homeowner to a chair at gunpoint. After Manson left the house, his crew took turns stabbing the LaBiancas to death. The word WAR was etched into Leno's stomach; one of the young women wrote a misspelled Healter Skelter on the wall in the man's blood.
Manson, who has indicated he prefers to remain in prison, didn't participate in his last parole hearing in 2007, complaining that he was a prisoner of the political system. He isn't expected to attend the hearing this week either.
Some former members of the Manson family cult have repented for their crimes -- most notably Leslie Van Houten, who was convicted of two counts of murder and now claims to be fully rehabilitated, citing exemplary behavior during her four decades in prison and a psychiatric assurance that she is no longer a danger to society. She has convinced Hairspray director John Waters that she is a changed woman; Waters refers to her as a really good friend in his book Role Models, and has advocated for Van Houten's parole via a letter campaign.
Susan Atkins, who like Manson was convicted on seven counts of murder, requested compassionate release in 2008 after she was diagnosed with terminal brain cancer. Her request was denied, and she died a born-again Christian at Central California Women's Facility the next year. Other key members of the group, including Patricia Krenwinkel and Charles Tex Watson, have expressed remorse but continue to be denied parole in a case eclipsed in notoriety only by the double-homicide trial of O.J. Simpson in 1995.
The notion that they would release Charles Manson before Leslie Van Houten is preposterous on its face, said Vincent Bugliosi, who prosecuted the Manson-family murders as a Los Angeles County deputy district attorney and wrote the best-selling account of the crime, Helter Skelter.
There's no chance at all that a parole board is going to release [him]. It's an automatic rejection, and he knows that, said Bugliosi, adding that the bloody messages left at the crime scenes were tantamount to Manson's fingerprints being found.
Although conventional wisdom aligns with Bugliosi's view, Manson has a small but noisy fringe of followers who are determined to get him freed -- or at least improve the conditions of his confinement.
The Release Charles Manson Now project is a Web-based campaign that encourages supporters to write letters of appeal to Corcoran State Prison.
There is, in reality, multiple thousands of people who believe in what Manson stands for, and who know he has been wronged, reads a statement on the project's blog. We must let our numbers be known to the world.
A young woman -- whose bare shoulders and chest suggest she may not be wearing a top -- uploaded a video message to the site, urging viewers to dismiss media-driven conceptions of Manson. The woman has an appearance and demeanor reminiscent of someone who might have been a Manson follower: Her long straight hair, parted in the middle, falls past her shoulders; her face is untouched by makeup. With wide, dark eyes and a soft, sweet voice, she clearly enunciates her words -- almost too clearly and robotically -- though her message is rather jumbled.
Why is it that whenever most people who think of the name Charles Manson they think of somebody that's crazy, somebody that's a killer, and insane, and bad and evil? she asks. Why would somebody think that about a person?
The woman claims to know Manson personally, and insists he is completely different from the media portrayals.
A request for an interview with members of the project wasn't returned.
Other, loosely knit supporter groups have set up camp on Facebook. One of them, apparently based in Italy, has over 40,000 likes. Another, much smaller community, features a photo of Guns 'N' Roses frontman Axl Rose wearing a Charles Manson T-shirt. (Guns 'N' Roses recorded a cover of a song Manson wrote two years before the murders, Look at Your Game Girl.) And a particularly active page, described as a dedication/tribute to Mr. Charles Manson, has garnered more than 10,000 likes and a steady stream of comments and posts, including interviews with Manson and samples of his art and music.
Occasionally, a nonsupporter will post messages on the page, cautioning Manson fans that they're worshiping a nutjob and a serial killer. Attempts to contact individuals who put comments on the page were unsuccessful.
In fact, only one Manson supporter contacted by the International Business Times agreed to be interviewed for this story, and he did so with considerable reluctance and skepticism.
Gray Wolf is a longtime friend of Manson's who lives near Corcoran prison. Wolf says Manson gave him his name, and that he visits with the prisoner frequently -- though not in the past several months: Wolf claims Manson has been in solitary confinement since October 2011 and accused the prison of covering this up. Indeed, there is little in the way of mainstream media reporting about Manson's current status in the prison, but multiple blogs have reported on his alleged confinement. (Officials at Corcoran State Prison couldn't immediately be reached to comment.)
Wolf is realistic about Manson's slim odds of being paroled and didn't advocate strongly for his release. Still, he feels as though Manson was wrongly imprisoned. He's never been convicted of killing anybody, and he wasn't at the crime scene, Wolf argued.
He also was critical of media reports that routinely refer to Manson as a mass murderer or a serial killer.
Serial killers kill often and multiple times, Wolf said, citing a distinction that even prosecutor Bugliosi recognizes but which is largely dismissed by the general public, which views Manson as a crazed and dangerous sociopath regardless of whether he meets the textbook definition. That's the kind of thing that I'm up against if I'm trying to represent the truth of what I feel Charlie is and what I know about him, he said. It gets overrun and buried in the rush to sell newspapers.
Wolf, who claims Manson has thousands of followers but was unwilling to provide any more details about this supporter network, has started a website, Manson Direct, which is dubbed the Official site for the Charles Manson Truth. An archived 2009 statement on the site, of unknown authorship, reads: You'd best save yourselves a lot of horror and suffering, and put Manson in his rightful place of command. The human world is falling apart, pulling the rest of the earth down with it. The answer to the problem is in a cell in Corcoran State Prison. It is time to wise up and listen to the wise man, if you want to survive.
Curiously, the site is affiliated with a nonprofit organization called Air Trees Water Animals. In fact, there is little distinction between the content on Mansondirect.com and Atwa.info. ATWA also has a Facebook page, which features a mix of nature photography, environmental initiatives and updates about Manson in prison.
Indeed, based on a brief conversation with Gray Wolf, it appears the primary basis for his relationship with Manson is a shared commitment to environmental concerns, or at least the perception of one.
[Manson] has been talking about our problems with the environment since before he got out of prison in '67, Wolf said. (Manson had been behind bars for crimes including armed robbery, auto theft and check forgery since he was a teenager. In 1952, while in reform school, Manson sodomized a boy while holding a razor to this throat.) And the whole time that he was outside between '67 and '69, he was talking about a rebirth movement.
He's been real consistent with that, Wolf said, adding that Manson has also been steadfast in his commitment to nonviolence. He hasn't been running around killing a bunch of people like the media would have you think.
Bugliosi finds such sentiments frustrating. They really don't know the tremendous evil and suffering that this guy caused, he said.
To this day, the retired prosecutor carries doubts about whether Manson has been punished enough. He recalled a conversation with Manson shortly after his conviction, which initially carried a death sentence.
You haven't really achieved anything, Bugliosi remembers Manson telling him. All you've done is sent me back to where I came from. (When Manson was released from prison in 1967, two years before the infamous murders, he reportedly asked to remain locked up.)
Bugliosi then reminded Manson he wasn't going back to the same place. 'As far as I know, Charlie, you haven't been sent to the green room' -- the apple-green San Quentin gas chamber, the prosecutor responded. [Manson] just smiled.
About a year later, I was driving the car and I heard on the car radio that the [California] Supreme Court had set aside the death penalty, Bugliosi said, referring to the 1972 decision. The first thought that entered my mind was what he had told me the previous year -- that all I had achieved was sending him back to where he came from.
Bugliosi believes Manson has maintained a base of support because he is somehow viewed as different from other killers.
All these other mass murderers in American history, almost without exception, they killed for one reason and for one reason only, and that was to satisfy their own homicidal urges, Bugliosi said. Still, Manson was very capable of murder. It's just that in his mind -- and he was correct to a certain point -- he thought he could immunize himself to criminal responsibility by getting other people to do his bidding for him.
To his supporters Manson represents an anti-establishment figure, Bugliosi added. He epitomizes the countercultural person standing up to the establishment.
For his backers, however, Manson will have to cut this romantic figure from behind bars for the rest of his life.
© Copyright IBTimes 2023. All rights reserved.
FOLLOW MORE IBT NEWS ON THE BELOW CHANNELS