New EPA Results: Fracking Has Not Contaminated Water In Pennsylvania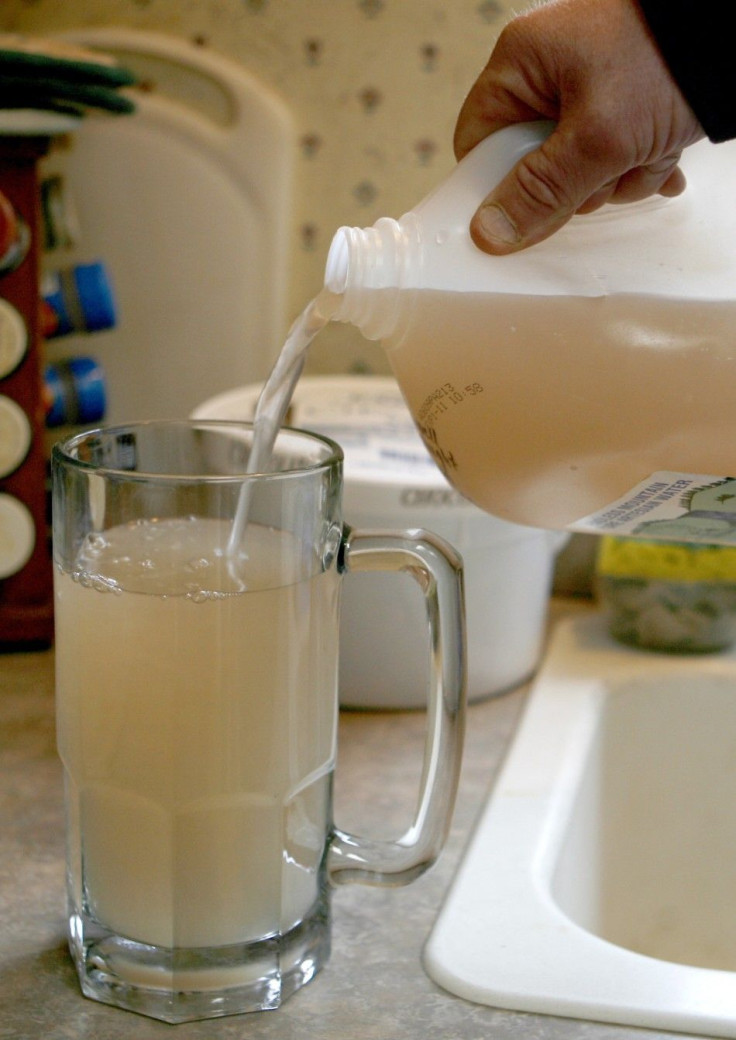 The U.S. Environmental Protection Agency is providing further evidence that hydraulic fracturing did not contaminate groundwater in a small Pennsylvania town where some residents believe natural gas drilling fouled their domestic wells.
Twenty more homes in Dimock were tested by EPA investigators, and the results upheld findings released earlier in March according to which the water posed no immediate health risk.
Dimock has been on the front lines in a battle against hydraulic fracturing, a drilling technique during which thousands of gallons of water, sand and chemicals are blasted underground to fracture rock and extract natural gas trapped underground.
The EPA's findings are a blow to hydraulic fracturing opponents, who say the techinque is harzardous to the environment and people.
The technique has been at the heart of much controversy, in states stretching from the East Coast to Wyoming.
In Ohio, there are suspicions that small earthquakes are linked to the disposal of drilling water. In Wyoming, the EPA is investigating claims that natural gas drilling tainted water near the town of Pavillion. Federal regulators previously released a heavily disputed draft report that linked drilling to ground water pollution there.
This month, the EPA said it will wait until April 17 before unveiling air emission reductions for hydraulic fracturing.
Dimock stands over the Marcellus Shale, a rock formation said to hold 84 trillion cubic feet of undiscovered natural gas, according to the U.S. Geological Survey. New York state, which sits on a part of that formation, is contemplating whether or not to allow high-volume hydraulic fracturing to take place, and could start issuing drilling permits by year's end.
Some residents of the small town in northeastern Pennsylvania are convinced their water has been irreparably tainted by hydraulic fracturing, and have tried since 2008 to hold Cabot Oil & Gas Corp. accountable for the alleged pollution.
Cabot and the state's Department of Environmental Protection have both previously said the town's water was safe to drink, and have given the EPA copies of their water-testing records.
Earlier this year, the EPA announced it was going to retest several wells in the town. On March 15, federal regulators announced the water in 11 wells was clean and did not pose health risks. Friday's announcement upholds that initial finding.
Heavy Metals
This set of sampling did not show levels of contaminants that would give EPA reason to take immediate action, said agency spokesman Roy Seneca. EPA remains committed to providing Dimock residents with the best available data and information on the quality of drinking water as expeditiously as possible.
PennEnvironment, a citizen advocacy group, said the EPA tests do not disprove that heavy metals are present in the town's water.
The undisputed fact is that methane, barium, and arsenic are now in the drinking water of the people of Dimock, and the industry has yet to provide any rational explanation for how this pollution got there besides their own drilling activities, said Erika Staaf, PennEnvironment's clean water advocate.
In a statement released following the EPA's data, Cabot Oil spokesman George Stark said any contaminants found in the residents' water are likely occurring naturally.
The EPA data is consistent with literally thousands of pages of water quality data accumulated by state and local authorities and by Cabot, Stark said. Importantly, the EPA again did not indicate that those contaminants that were detected bore any relationship to oil and gas development in the Dimock area, particularly given the fact that any contaminants are likely indicative of naturally occurring background levels or other unrelated activities.
Environmental groups are not convinced, and say that although the contaminants fall within safety levels, extended exposure to them will cause health risks.
Water Defense, in a March 20 brief, said the EPA's water testing confirmed the fears of Dimock residents. The group called on the state to provide the residents with safe fresh water.
Any suggestion that water from these wells is safe for domestic use would be preliminary or inappropriate, said Ron Bishop, a chemist at the State University of New York's Oneonta campus, Water Defense reported.
© Copyright IBTimes 2023. All rights reserved.