Cheetah Attacks Woman While Husband Photographs, Where To Find The Horrifying Photos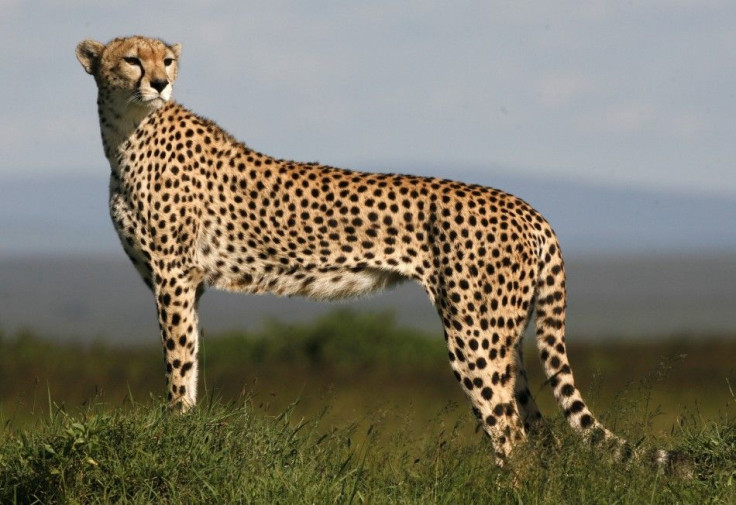 Violet D'Mello, a British woman from Aberdeen, was visiting the Kragga Kamma reserve in South Africa with her husband Archie when she was mauled by a cheetah.
Violet was on vacation with her husband for her 60th birthday when the two decided to participate in an enclosure where visitors were able to pet the animals. One minute I was in the enclosure with the cheetahs and the next it was biting at my head, said the terrified woman.
The animals were supposed to be tame enough to pet, reported the New York Post, but the guide in the pen did tell Violet and her husband that at that time of day the cheetahs could be agitated.
The Huffington Post reports that when the couple turned away from the three cheetahs, one of them attacked a little girl. Two other cheetahs then attacked Violet.
According to the Daily Mail, the 60-year-old was thrown to the ground by the animals who attacked her head, stomach and legs. In an attempt to survive the horrifying ordeal, Violet revealed that she had to play dead.
While park visitors and the park guide worked to free the victim, her husband stood outside the enclosure snapping pictures.
Violet was rushed to the hospital by park manager Mike Cantor. The woman was treated for injuries around her eye and leg; she also received stiches in her head.
Cantor was shocked by the traumatizing attack. I have grown up with these cheetahs and they are not aggressive animals, the Daily Mail reported the park manager said. It is almost like they wanted to play with the woman. What happened was that a young girl got a bit uptight and then ran away and the cheetah grabbed her by the leg.
According to Cantor, the cats thought it was play time because Violet went to assist the young girl.
The young girl in question is Camryn Malan, an eight-year-old. Camryn received stiches in her leg.
It was very busy at the park that day, continued Cantor, which may have aggravated them somewhat.
Violet who was bleeding badly after the attack is lucky to be alive.
We were very angry about what happened because we were told the situation was safe and it obviously wasn't, said Violet's husband. The park said they didn't know what had caused the cheetahs to attack but they shouldn't let tourists in unless they're sure it is safe.
To view the horrifying photos taken by Archie D'Mello, click here.
The account of the attack comes just a day after an Oregon mom posted a video of her son at a zoo with a lion trying to attack him through a zoo window.
© Copyright IBTimes 2023. All rights reserved.