Chelsea Transfer News: Costa, Benzema, Mandzukic And Eto'o Involved In Latest Speculation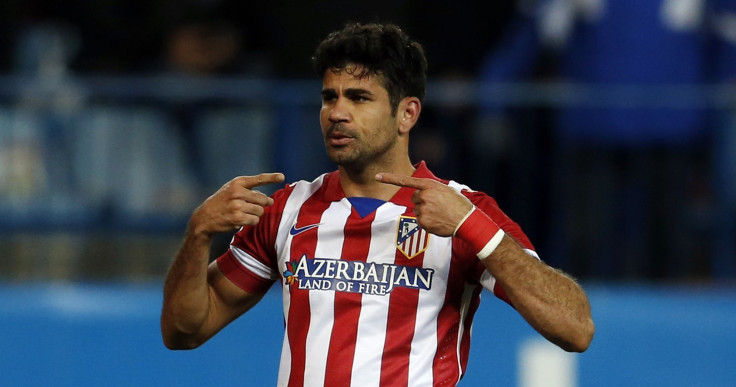 Signing a top-class striker has long been a priority for Chelsea and, if reports are to be believed, they have now identified their leading target for this summer. According to the Daily Mail, Chelsea are prepared to pay £40 million to secure the services of Atletico Madrid's Diego Costa.
It is claimed that a representative from the Blues was set to again watch Costa in action against Granada on Wednesday. If so, there would surely have been a glowing report heading back to west London after Costa scored his 32nd goal of the season to take Atletico back to the top of La Liga.
Costa, who made his debut for Spain earlier this month having switched his allegiance from Brazil, is certainly a player with the attributes to appeal to Chelsea boss Jose Mourinho. In addition to his impressive goal-scoring record this season, Costa is, like Chelsea legend Didier Drogba, also a big exponent of the physical side of the game and prepared to do the unpleasant things to get an advantage over an opponent.
It remains to be seen whether Chelsea will attempt to lower the price for Costa by sending a player in the opposite direction. Atletico would unquestionably like to keep Thibaut Courtois, with the goalkeeper having spent three successful seasons on loan from Chelsea. Yet the Premier League leaders are reluctant to lose a man who they intend on becoming the successor to Petr Cech. Another candidate to fill the makeweight role is Fernando Torres. The Spain international came up through the ranks at Atletico before going onto captain the side but has looked a shadow of his former self since his £50 million transfer from Liverpool to Stamford Bridge.
There has been plenty of speculation about the futures of all three current Chelsea strikers. Demba Ba looks certain to leave if a taker can be found, having started just two Premier League games this season. Samuel Eto'o has been the most impressive of the trio, but the 33-year-old is only on a one year contract. And, according to The Sun, Eto'o is so unhappy with Mourinho's recent joke about his age, which was caught on camera by a French television station, that he is set on departing at the end of the campaign.
Eto'o recently commented on Mourinho's remarks, explaining that the Portuguese had broken from his usual method.
"What do you want me to say? Even if I am old, I continue to score goals," he told beIN Sports, according to the Daily Mirror. "I have known lots of coaches but it's true he is unique for the way he motivates.
"In certain moments, he sometimes loses all reason like he did with me. But it was the first time that he attacked one of his own players. Normally he takes the pressure on himself."
As well as Costa, Chelsea have also been strongly linked with Bayern Munich striker Mario Mandzukic. When the inevitable news broke in January that Robert Lewandowski would be arriving in the summer there was an initial rash of speculation about Mandzukic's future. However, the newly crowned Bundesliga champions believe that the Croatia international will be staying.
"Mario Mandzukic is under contract with our club," chairman Karl-Heinz Rummenigge told German publication Welt am Sonntag, according to Sky Sports. "I am definitely aware that many clubs have started to show an interest in Mario's services, but I believe he will be with our club way beyond the end of this season."
Real Madrid's Karim Benzema has also been cited as a Chelsea target in recent days. Talksport believes that Chelsea will battle it out with Manchester City for the France international this summer. Their chances of success seem highly unlikely given Benzema has hit a fine run of form after a difficult start to the season, although negotiations are ongoing over a new contract. Talksport's story is seemingly based on the provocative claims of Jonathan Hope, who appears to represent Benzema's interests in the UK.
"I've proposed rekindling the interest from Manchester City for Karim," he said. "After his fine form in El Clasico I've proposed him as a summer target. Karim would love to play in the Premier League and Manchester City would be his choice of club, however reuniting with Mourinho at Chelsea would also be of interest."
© Copyright IBTimes 2023. All rights reserved.