Chelsea Vs. Manchester City: Prediction And Preview As Premier League Title Contenders Meet At The Etihad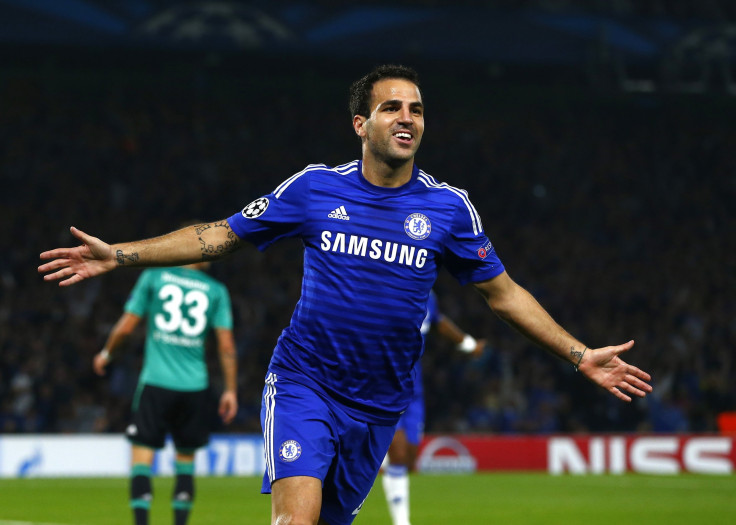 Manchester City will be under pressure to halt Chelsea's perfect start to the Premier League season when the two title contenders faceoff at the Etihad on Sunday. With their major summer additions, Diego Costa and Cesc Fàbregas, making an instant impact, Chelsea have won all four of their games in impressive fashion and looked a class apart from the competition. In contrast, it has been a more pedestrian beginning for the champions.
A shock home defeat to Stoke City before the international break, followed by a draw at Arsenal after it, has already left Manuel Pellegrini's men five points behind and knowing that, even at this incredibly early stage, they can ill afford to let that become eight on Sunday.
City will need no extra warning of Chelsea's threat. Prior to the loss against Stoke, the last time City tasted defeat at home in the Premier League was when Chelsea visited in February. It was the most impressive performance of José Mourinho's first season back at Stamford Bridge, with the Portuguese doing a number on his long-time rival on the other bench and ruthlessly exploiting City's vulnerabilities in transition with a far more positive approach that anyone had expected.
The Touré Conundrum
While Pellegrini appears to have dispensed with the ill-advised plan of operating with two strikers against top opposition, City can still lack solidity in the middle of the pitch. It was an area the club made an effort to correct over the summer by bringing in a no-thrills holding midfielder in Fernando. He, though, is expected to again be missing for the visit of Chelsea. The former Porto man's presence was unquestionably missed on Wednesday night in Germany, when Bayern Munich overran a City midfield that had Yaya Touré missing in action.
The Ivorian's 20 Premier League goals last season make it unquestionable that he is one of Manchester City's key assets, yet he can also be their biggest liability. Operating as one of the two deeper-lying midfielders, Toure regularly marauds forward into the opposition box, leaving a gaping hole in the middle if the ball is lost. It was exactly that which contributed heavily to City's defeat to Chelsea at the Etihad last season. As much as Martin Demichelis got the blame for his performance alongside him in midfield, Toure's lack of discipline left the Argentine stranded against a wave of Chelsea players steaming past him.
Fernandinho had a similar experience in Munich, where Touré was not just positionally suspect but ambled, almost limped, around the pitch in a manner that suggested he was either injured or supremely disinterested. Although he was not taken off, Touré's display was concerning enough to prompt a decision to bring on James Milner alongside Fernandinho and move Touré further forward. It's conceivable, yet unlikely, that Pellegrini could start with that same set up against Chelsea. What is sure is that Toure's positioning and performance will play a crucial role in the outcome on Sunday.
Fàbregas Impact
If it goes wrong then Chelsea have even more weapons than they did last season with which to take advantage. When Chelsea won at Manchester City in February, the Premier League title was theirs for the taking. That it wasn't held aloft at Stamford Bridge was down to not only a lack of a clinical striker but of another player to support Eden Hazard in opening up stubborn defenses. Both areas were swiftly addressed in the summer to spectacular early results. Costa, who will return to the lineup after being rested in midweek, has taken the headlines with seven goals in his first four Premier League appearances, but Fàbregas has been equally impressive in racking up six assists. If City leave gaps in their midfield, then Fàbregas could have a field day threading Costa through a defense that can be vulnerable to pace in behind.
As with Pellegrini and Touré, though, Mourinho faces a conundrum of where to position Fàbregas. Against Swansea last week, he was deployed as one of the deeper two in a midfield that was overran by the Welsh side in the first half to an extent that they could have easily been more than a goal up. At half time Ramires was brought on, Fàbregas moved forward and Chelsea won comfortably. Still, it is a midfield that is not as organized and disciplined as Mourinho would want. Fàbregas continued in the more advanced role in the Champions League on Wednesday night, but his side threw away a 1-0 lead thanks to allowing Schalke's Julian Draxler to charge through the heart of the Chelsea team. It was very un-Mourinho like, as is Chelsea's record this season of seven goals conceded in five matches.
Such vulnerability could lead Mourinho to go back to basics in such an important, challenging contest in the knowledge that a point away at their title rivals would not be bad at all after their flying start.
Prediction: Manchester City 1-1 Chelsea
© Copyright IBTimes 2023. All rights reserved.