Chicago Lawmakers Call for SEC Investigation of Mayor Rahm Emanuel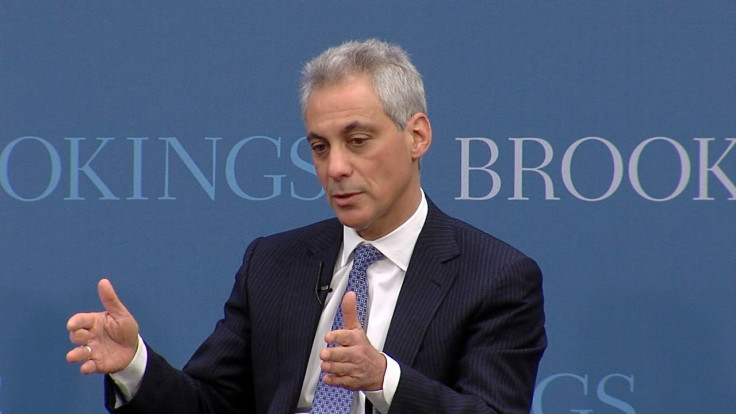 Chicago lawmakers are planning to send a formal request to the Securities and Exchange Commission for an investigation into donations to Mayor Rahm Emanuel from executives at financial firms that manage city pension money. The donations were first documented by International Business Times in a report quoting former SEC and federal prosecutors saying the contributions may run afoul of the agency's pay-to-play rules.
The aldermen scheduled a City Hall news conference Tuesday to announce the action.
In a letter to Andrew Ceresney, who directs the SEC's division of enforcement, Aldermen Bob Fioretti, Scott Waguespack and John Arena write the donations constitute "pay-to-play actions" that "have violated the public trust and are a breach of the fiduciary duty" by the Emanuel administration officials who oversee the city pension systems. They say "Chicago has a deep history of pay-to-play" and that their "goal is to end these tactics and protect the citizens of Chicago and employees' investments."
In a speech last week, Ceresney vowed increased enforcement of the SEC's pay-to-play rule, which was passed in 2011 after an influence-peddling scandal at the New York State pension system.
The SEC and Emanuel's office did not respond to IBTimes' request for comment. In a statement about the donations emailed to Bloomberg News, Emanuel's campaign manager asserted the donations comply with "the higher standards the mayor voluntarily imposes on himself per his executive order" banning contributions from city contractors.
Fioretti is running for mayor against Emanuel in next year's municipal elections. A poll released Monday by the Chicago Teachers Union indicated his candidacy could force Emanuel into a runoff.
On top of the request for an SEC investigation, the aldermen are asking for the city's inspector general to conduct a review of whether the donations violate Emanuel's own executive order barring campaign donations from city contractors and subcontractors.
They are also asking Emanuel to release a full list of all the financial firms managing the city's $23 billion pension system -- including the firms in pooled investments known as a "fund-of-funds." IBTimes obtained documents showing executives at a firm managing Chicago pension money through two Chicago pension systems' fund-of-funds had made significant campaign contributions to Emanuel.
© Copyright IBTimes 2022. All rights reserved.
FOLLOW MORE IBT NEWS ON THE BELOW CHANNELS