China Admits Its Smog Problem Is Deterring Foreign Visitors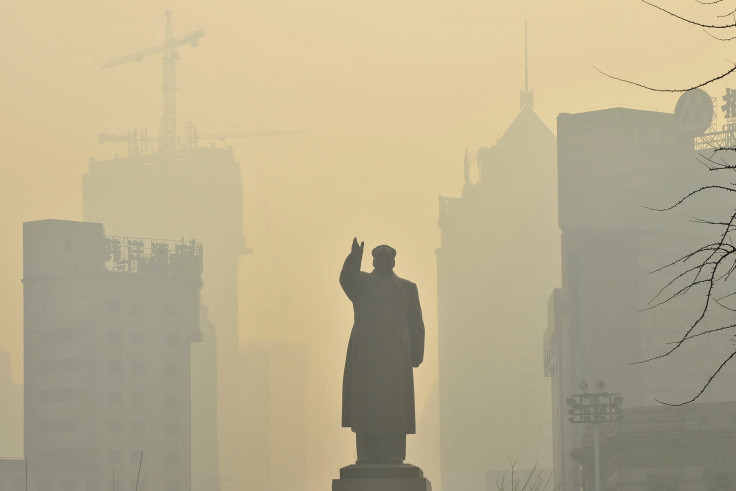 Remember China's "Airpocalypse" this past January? If you do, you're not alone. In fact, the state of China's rapidly deteriorating air quality appears to have stuck like smog on the minds of global travelers, and may be partly to blame for a surprising downturn in inbound tourism in the first six months of 2013.
Travel analysts at the UN World Tourism Organization have waxed poetic about the potential of China's burgeoning market for both domestic and international tourism. Indeed, with a total of nearly 58 million international tourists visiting in 2012, UNWTO said in a report released last month that China was the third most popular destination in the world after France and the United States. UNWTO secretary-general Taleb Rifai even noted in the past that he expects China to take the No. 1 spot by 2015.
Yet, while most Chinese data points skew upward (more money, more buildings, more factories), the total number of foreign travelers (both business and leisure) and residents entering China declined by 5 percent from January to June when compared to last year's figures, according to numbers from the China National Tourism Administration quoted in state media.
The declines are even more jarring in the capital, where state media reported earlier this month that foreign tourist arrivals fell by a whopping 14.3 percent over the first six months of 2013, despite a new policy allowing travelers from 45 countries to stop in Beijing for 72 hours visa-free. The capital hasn't seen a similar decline in numbers since 2008.
These gloomy figures beg the question: Does the amount of air pollution in a city (or country) really stop a traveler from visiting? According to state-controlled China Daily, it has. "Frequent air pollution," the newspaper said, contributed to a poor inbound tourism performance. Chen Xu, from the China Tourism Academy, was quoted as saying that a recent survey revealed a rise in "complaints focused on the environment at scenic spots."
Yet, Larry Dwyer, president of the International Academy for Tourism Economics and professor of Tourism Economics at the University of New South Wales Australian School of Business, said any flattening or declines are likely due to a number of factors.
"It's easy to focus on one thing such as air pollution, but at the same time, the global economy is falling down, the yuan has been high, there is increased competition from Thailand or emerging destinations like India, and there has been some criticism of service quality," he said.
Dwyer added that China doesn't promote itself well on the Internet, particularly with social media, which puts it at an increasing disadvantage. Yet, he supposed the numbers in Beijing "might be a case where there is validity to this smog claim."
In January, nearly a week of air pollution blanketed the Chinese capital and other northern cities in a thick gray smog that smelled like coal, stung the eyes and spurred official warnings to stay inside. Air pollution reached levels that were 40 times above what the World Health Organization deems safe, and even the official mouthpiece of the ruling Communist Party, the People's Daily, asked: "How can we get out of this suffocating siege of pollution?"
The smog was nothing new, but the levels it reached and its duration served as a wake-up call that China was literally choking on its own rapid development. The "Airpocalypse" also marked a change in how smog (a previously unused word by the Chinese government) was acknowledged and reported on in domestic media. People, it seemed, were fed up.
Greenpeace commissioned an independent third-party poll to look at public satisfaction of air quality in the Beijing, Tianjin and Hebei region last month and found that nearly 70 percent of local residents were unsatisfied, while 92 percent wanted the region to reach acceptable standards by 2020. Nearly all respondents (96 percent) believed the air pollution was affecting their health.
Greenpeace called on the government to eliminate high-energy consuming and polluting production capacity, reduce coal-related consumption, adjust the energy structure and enhance sustainable energy.
"Coal use is a major cause for PM2.5 pollution (fine partials smaller than 2.5 micrometers in diameter that can enter deep into the lungs and cause additional damage) in the capital region around Beijing," noted Huang Wei, climate and energy campaigner, at Greenpeace. "The rapid growth in coal consumption has been brought on by extensive industrial expansion, which in turn, has increased pressure on the environment and public health conditions. In order to turn around the deteriorating air conditions, China must fundamentally change its development model, starting with a significant reduction in coal consumption."
Surprisingly, a fundamental change may already be under way, thanks both to angry protests that threaten national stability and the overall risk to the economy. China will spend $277 billion -- roughly the same GDP of Hong Kong and twice its annual defense budget, as the Economist notes -- over the next five years on improving air quality.
"The thick smog and haze that covered large areas of the country in January has focused public attention on this issue," Zhao Hualin, a senior official at the Ministry of Environmental Protection, told China Daily last month. He said that the program would primarily target northern China, including Beijing, Tianjin and Hebei province.
Whether these efforts will be enough to convince foreigners to come back remains to be seen.
© Copyright IBTimes 2023. All rights reserved.