Chipotle E. Coli And Norovirus Outbreaks Update: Amid Public Relations Crisis, Chain Urged To Be Transparent About Food Process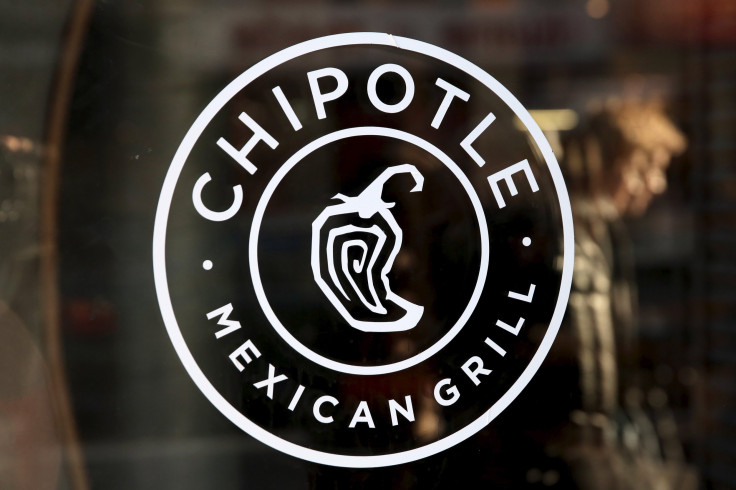 Passersby hurried to fast-food restaurants on a busy lower Manhattan street Thursday just after noon to join lines that already stretched out of doorways and twisted around corners. But amid the lunch-hour frenzy, the Chipotle on the corner of Maiden Lane and Pearl Street sat jarringly empty, with no line, clusters of empty tables and just one man perched at the end of a series of vacant stools facing a windowfront.

"I was surprised that there wasn't a big line – there usually is a big line. But now I know why," said 31-year-old Dominick Picciano, putting down his double-wrapped chicken burrito after being informed that the restaurant chain had recently suffered a string of contaminant outbreaks across the country. At least 80 students at Boston College contracted norovirus this week after eating at the chain, and an E. coli outbreak at Chipotle restaurants last month resulted in 43 stores being closed in Washington state and Oregon.

The outbreaks have smeared the company's reputation for offering a high-quality, ethically sourced menu meant to elevate it above its fast-food competitors, and the fallout from customers has been swift. As the company enters damage-control mode, industry experts have urged it to be transparent in explaining to customers exactly what went wrong with Chipotle's food preparation process, and what they'll do to resolve the crisis. Otherwise, the company could see irreparable damage to a famously loyal customer base, which has been described as "cult-like" ever since the chain skyrocketed to success around 2012.

Co-Chief Executive Officer Steve Ells apologized to customers for the outbreak in Boston Thursday on NBC's "Today" show, saying he was "deeply sorry" for "a very unfortunate incident." Chipotle's stock fell about 20 percent in the wake of the outbreaks, but its shares were up 3.6 percent to $567.71 in premarket trading after Ells' TV appearance.
"The procedures we're putting in place today are so above industry norms that we are going to be the safest place to eat," he said.
But industry experts say it could be precisely Chipotle's emphasis on using fresh produce that left it susceptible to such outbreaks. Marie Bragg, an obesity and food policy researcher at New York University, said of all the restaurant chains these incidents could have occurred in, it's unsurprising that it was Chipotle, since the company is known for touting its use of fresh produce, which is at high risk for contaminants.

"It's unfortunate, because Chipotle has been trying to do the right thing in terms of getting antibiotics out of their food, getting [genetically modified organisms] out of their food – and so it just shows how complicated things can get when you're trying to do the right thing," she said.

Chipotle has done exactly the right thing by owning up to the outbreaks and apologizing, Bragg said. As a next step, Chipotle needs to do everything it can to determine when and where the food was contaminated in its production process, she said.

"We know from food safety research and from food production in this country that there are a lot of vulnerable areas where food contamination could occur," she said. "It could occur during the early stages of getting the food from the farm to the restaurant, it could occur from the workers not using proper hygiene."

Transparency will be Chipotle's best ally moving forward, especially given Chipotle's broad following, said Mario Almonte, partner at New York-based Herman & Almonte Public Relations. The chain must not be afraid to admit to mistakes they've made – even large ones – no matter how much the company wants to promote its quality-control efforts, he said.

"Their customers are very loyal – extremely fanatic about the food and the fact that they're a fan of the brand," he said. "If they begin to even for a second doubt or question the honesty or integrity of the brand or of what management is saying, it can begin to damage it enough that it could become a permanent thing.
2015 E.coli Cases Linked to Chipotle | HealthGrove

Ells' "Today" show apology was exactly the right way to handle the situation, Almonte said. Even Ells' grandiose remark to make the restaurant "the safest place to eat" will go over well with consumers, who won't want to see a shred of doubt from the company's senior management that the incident is under control.

"You gotta say that. That's exactly what it should be. That's what people want to hear," he said. "He can't sound equivocal. He can't say, 'We're going to do our best to try to make it better.' You have to say, 'We are going to make it better. We are going to make it the safest place.' You can't offer any kind of suggestion or sign that maybe you're not fully on top of this."

Going forward, Chipotle must follow up Ells' words with concrete actions, Almonte said. The apology will sound empty if one month from now, another E. coli or norovirus outbreak occurs, he added.

Pamela Ponce, 26, said she frequents the lower Manhattan Chipotle restaurant and always orders the burrito bowl. She knew about the outbreaks, but assumed her food would be safe since she had not heard of any incidents occurring in New York.

"I've eaten here before, so I think it's fine. But I know some of my co-workers were worried about it and they didn't want to come here," she said Thursday. "I'm sure the cases have hurt Chipotle a lot and I'm sure they don't want to lose customers, so I'm sure that they're going to try to improve the quality of the food to make sure that this doesn't happen again."

As for Picciano, he still finished his burrito. But he said he'll be doing some research on Chipotle when he gets home.
© Copyright IBTimes 2023. All rights reserved.