Chris Christie Endorses Donald Trump In 2016 Republican Primary Race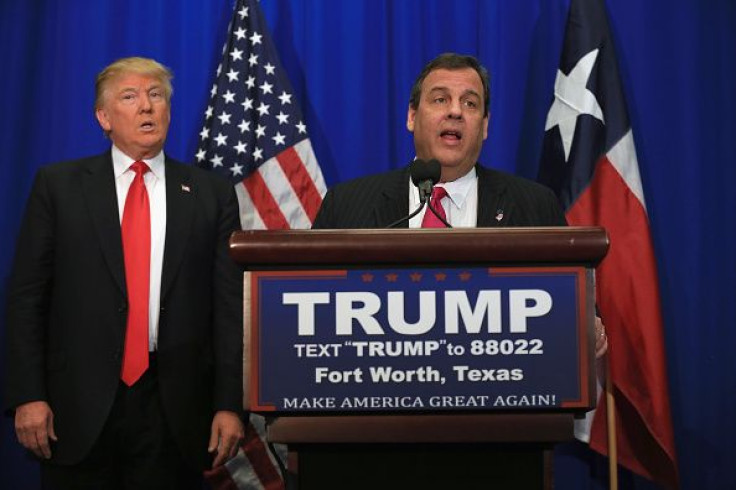 UPDATE: 4:05 p.m. EST — Florida Sen. Marco Rubio doesn't seem to be deterred by Chris Christie's endorsement of Donald Trump and continued to mock the billionaire Friday during an Oklahoma City rally. He continued his now running joke that Trump doesn't know how to spell, reading from tweets sent early Friday morning in which Trump misspelled the words "choker" and "honor." Rubio also mocked him for being nervous backstage during the debate Thursday.
It was at least the second time Friday that Rubio had used the line of attack. Earlier in Dallas, Rubio had tried out making fun of his Republican competition and prompted someone in charge of Trump's Twitter account to quickly delete the erroneous tweets and replace them with the same messages but correct spelling.
UPDATE: 2:25 p.m. EST — In the aftermath of the surprising Chris Christie endorsement of Donald Trump, Twitter users are noting that the news could have major implications for the Republican Party. Christie's endorsement shows that the party may be even more fractured than previously though as the governor was widley considered to be something of an "establishment" politician himself.
The endorsement also raises the question of what, exactly Christie might be expecting to gain out of this high-profile endorsement, many are noting. There are plenty of positions in the federal government that Trump could hand out to allies should he become president. The question is which of those, if any, Christie may be angling for.
From Jeb Bush's former communications director:
Original story:
New Jersey Gov. Chris Christie formally endorsed Republican front-runner Donald Trump on Friday, just days before the delegate-rich Super Tuesday contests.
Christie's endorsement is a big win for the bombastic billionaire, who is leading in nine of 12 states that will vote Tuesday in the primaries of the U.S. presidential election season.
Christie, who dropped out of the 2016 race just after Trump won the New Hampshire primary by a landslide, is positioning himself alongside a candidate who many saw as similar to the New Jersey governor in his tough-talking campaign style.
"I have absolute confidence in his ability to go in there and fix the problems that plague America," Christie said during a press conference to announce his support for Trump. He later insulted Florida Sen. Marco Rubio. "Turn away from the amateur acts of Washington, D.C., and turn to a professional, long leader."
In the endorsement, Christie repeatedly bashed Rubio — widely seen as one of Trump's most potent rivals — saying that the freshman senator's campaign is overly reliant on smiles and putting on a good show. Christie's presidential campaign ended shortly after a heated debate clash between the New Jersey governor and the Floridian in which Christie slashed Rubio and pointed out that the senator seemed to be repeating the same prepared speech over and over again. The exchange seemed to damage Rubio in the New Hampshire primary days later and even inspired a protester to wear a robot costume, introducing the phrase "Rubio robot" into the campaign lexicon.
Still, it's not as though Christie and Trump had been on great terms while the governor was still in the campaign. The tough-talking state executive, known as much for his fluency with insults as for holding intimate town halls with voters, repeatedly insulted Trump. At one point he questioned Trump's true ability to lead, and said he was acting like a teenager when he skipped a GOP debate right before the Iowa caucuses.
This is Trump's first gubernatorial endorsement and adds to a very small list of endorsements thus far. In addition to Christie he has been backed by just two members of the House of Representatives, according to Five Thirty Eight.
© Copyright IBTimes 2023. All rights reserved.