Chris Christie Presidential Campaign Launch: New Jersey Governor Says America Is Hampered By DC Gridlock, Needs 'Strength'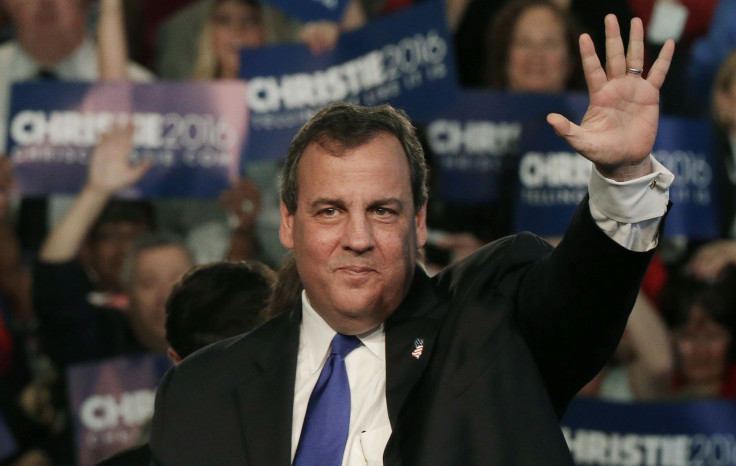 New Jersey Gov. Chris Christie announced on Tuesday his intent to run for president in 2016, becoming the 14th Republican to officially enter the race. His remarks, delivered without a teleprompter, touched on everything from dysfunction in Washington to his New Jersey upbringing.
Bon Jovi's "We Weren't Born to Follow" welcomed Christie to the stage, where he was joined by his wife, Mary Pat Christie, and their four children. "Americans are filled with anxiety," said Christie, speaking from the gymnasium of his high school alma mater, Livingston High School in Livingston, New Jersey, where he served in student government before graduating in 1980. "They are filled with anxiety because they look to Washington, D.C., and they see a government that doesn't work anymore, that doesn't even talk anymore. We need a government in D.C. that remembers you went there to work for us, not the other way around."
He said both Republican and Democratic lawmakers had failed the U.S. "Both parties have stood in the corner and held their breath and waited to get their way," said Christie. "Somehow now 'compromise' is a dirty word." He added that had our forefathers not compromised, "we'd still be under the crown of England."
Christie also took shots at President Barack Obama's administration and urged Americans not to elect Obama's "second mate" Hillary Clinton. "America is tired of hand-wringing and indecisiveness and weakness in the Oval Office," said Christie "We need to have strength ... that is why today I am proud to announce my candidacy for the nomination of the president of the United States of America."
He launched his campaign website Saturday, three days before his official announcement. It included a "Donate" button and his campaign slogan, "Telling It Like It Is." A tweet also was sent earlier that day from Christie's official Twitter page, urging his followers to visit the site.
Despite denying having made up his mind about running for president prior to Tuesday's announcement, Christie already has visited Iowa and New Hampshire and set up super PACs to raise money for a campaign. He was one of the few major potential candidates who had yet to announce a bid among the ever-expanding Republican pool of candidates. With his announcement, Christie joins such other high-profile Republicans as former Florida Gov. Jeb Bush, Sen. Ted Cruz of Texas, Sen. Rand Paul of Kentucky and Sen. Marco Rubio of Florida.
Christie was elected governor of New Jersey in 2009, defeating incumbent Jon Corzine. He won re-election in 2013, beating Democrat Barbara Buono by over 22 percent.
The New Jersey governor's national name recognition and reputation as a moderate Republican made him a popular potential candidate for the presidential race in 2012. He ended up not running, but was the keynote speaker at the Republican National Convention that year. He is known for his no-nonsense approach to politics and sometimes brash public remarks. "I get accused a lot of times of being too blunt and too direct and saying what's on my mind just a little bit too loudly," Christie said in a video uploaded to his campaign website. "I know if my mom were still alive, she would say to me, 'I taught you that in a trusting relationship, you don't hold anything back.' "
In the face of economic troubles in his home state and recent scandals involving a bridge closure and the state's public pension system, his run is likely to be an uphill battle. The first controversy surfaced in January 2014 when it was revealed that Christie's administration had a hand in politically motivated lane closures at the George Washington Bridge connecting northern New Jersey and Manhattan that resulted in widespread traffic jams.
It also came to light that New Jersey had used federal Hurricane Sandy relief money for political purposes. Nearly one-third of aid money earmarked for hurricane victims went to areas not impacted by the storm, according to a report last year by the Star-Ledger.
In the wake of such controversies, Christie's approval ratings have plummeted. Just 30 percent of New Jersey residents said they approved of Christie, an all-time low for the governor since he took office in 2010, according to recent polling.
His popularity among his party hasn't fared well, either. His approval dropped sharply following those controversies. Polls show that 55 percent of Republican primary voters said they wouldn't vote for Christie, according to the New York Times.
Still, some experts said not to discount Christie's chances just yet. "You have to think of him [as] something like the Beatles when they showed up in America. He doesn't look like or sound like anyone out there. That makes him very engaging, very different," Ben Dworkin, director of the Rebovich Institute for New Jersey Politics at Rider University in Lawrence Township, New Jersey, told International Business Times earlier this week. "People want to hear what [he has] to say. They want to see him. Everyone else seems like a cookie-cutter version of [a politician]."
© Copyright IBTimes 2023. All rights reserved.
FOLLOW MORE IBT NEWS ON THE BELOW CHANNELS