Chris Christie's Administration Omitted Wall Street Fees From State Pension Analysis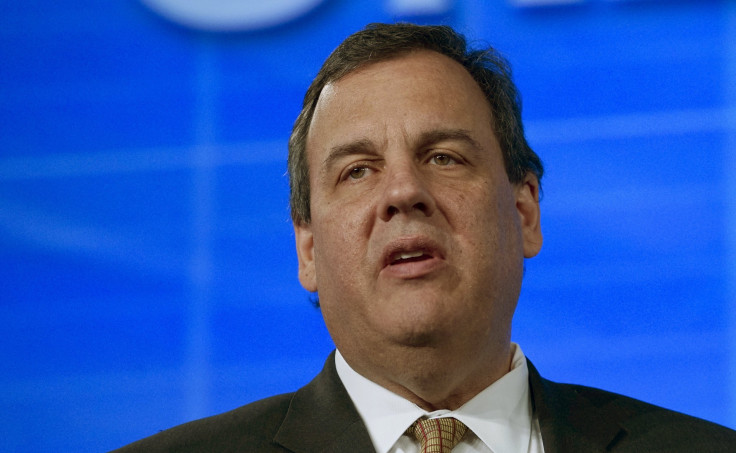 Even as Chris Christie pushed to cut benefits to retired New Jersey firefighters, teachers and other state workers, saying there simply wasn't sufficient money in the pension fund, his administration was concealing how millions of those pension fund dollars were spent.
Faced with intensifying criticism of skyrocketing fees the state pension was paying to financial firms, the Republican governor's officials have touted their own cost estimate. But they didn't offer a complete reckoning. The officials' testimony to state lawmakers and letter to one of the state's largest newspaper chains earlier this year appeared to prove that the state's fees were well below other states. In fact, the Christie administration's pension analysis, obtained through an open records request by International Business Times, omitted so-called performance fees that the state is paying to Wall Street. Those levies, which give financial firms a cut of the state's investment gains, now total hundreds of millions of dollars a year. A Christie administration presentation to state pension trustees also obtained by IBTimes similarly omitted those performance fees from its cost estimate.
The disclosure that the Christie administration's cost estimates hid large payments to financial firms comes as New Jersey lawmakers are set to hold a hearing on Thursday to scrutinize the more than $600 million a year the state now pays in total pension fees. The hearing follows an IBTimes' reporting series that prompted New Jersey pension trustees to launch a separate investigation into the fees -- some of which have been paid to financial firms whose executives made campaign contributions to Republican organizations backing Christie's election campaigns.
The Christie administration's Treasury Department did not respond to questions from IBTimes about its cost estimates.
In the last year, while Christie's administration said the state's pension fund is so strapped for cash it must reduce benefits for retired state workers, Christie's commission of financial executives did not include proposals to reduce those fees. Thomas Healey, the head of New Jersey's pension reform panel, deemed the fees "insignificant." In May, Christie vetoed bipartisan legislation that would have compelled his aides to more fully disclose pension fees.
State Senator Bob Gordon, the Democrat who is chairing Thursday's hearing about pension fees, told IBTimes that he is concerned about the costs associated with the Christie administration's shift of billions of dollars in pensioners' savings to private financial firms. He noted that while the investments have generated enormous payouts to Wall Street managers, the state's portfolio has delivered below-median returns in comparison to other similarly sized pension funds.
"Before we change laws related to benefits, we want to figure out how we maximize these investments," Gordon said. "We certainly want to do as well as the market. If we can do better in an index fund, we should talk about doing that."
Earlier this year, IBTimes reported that the Christie administration had quietly changed how pension fees were reported. Amid a pay-to-play investigation and general scrutiny of Christie officials delivering pension deals to politically connected financial firms, the governor's State Investment Council specifically classified $335 million of payments to financial firms as "performance allocations," allowing the Christie administration to assert that the state paid just $265 million in fees that year.
In March, Christie's Treasury spokesperson Joseph Perrone sent a letter to the state's Gannett newspapers declaring that "a recent cost analysis" proves that the New Jersey pension fund's overhead "costs are approximately 25 percent below its peers." In testimony to legislators later that month, Christie's state treasurer, Andrew Sidamon-Eristoff, drew on that cost analysis to assure lawmakers that New Jersey has been paying just 33 cents in fees per $100 in the pension system -- a rate that he said was below the average of 41 cents for large pension plans.
"We've been very frustrated with the distortions made in the press about this matter," he told lawmakers. Criticism of the fees "impugns the performance of our professional staff," he said. At a separate hearing, he added: "The truth is that New Jersey's management fees and expenses are below the average for peer large public pension funds."
But the Christie administration figures cited by Sidamon-Eristoff and spokesman Perrone did not include $335 million of performance fees. Had those levies been included, the cost analysis would have showed that the state paid 75 cents per $100 under management -- far higher than the national median, according to a 2013 study from the Maryland Public Policy Institute.
In his testimony, Sidamon-Eristoff said that of 17 large public pension plans, only two disclose both performance fees and standard investment management fees. When compared to those two, Sidamon-Eristoff asserted, New Jersey paid 0.3 percent less in fees.
But in California -- which publishes the performance fees that financial managers tell officials they are assessing -- the state's $300 billion pension system paid out $1.4 billion in fees in 2014, or 46 cents for every $100 under management. Had New Jersey paid the same fee rate as the California Public Employees' Retirement System, taxpayers would have saved over $200 million dollars in 2014 alone.
"It has been 11 years since New Jersey's pension system began its push into alternative investments," said Gordon. "Today, $3 out of every $10 in our pension system is invested in hedge funds, private equity, real estate or other alternatives. It is time that we engage in an honest assessment of where New Jersey stands relative to other large pension systems and determine if these investments are truly worth the fees."
© Copyright IBTimes 2023. All rights reserved.